Yesterday I asked a question about how everyone blogs. Today, I have another question. I hope it is okay to ask a crock pot question instead of posting a recipe.
I have two crock pots. They are two different sizes. They are also two different colors. My smaller one is dark green and I have it it for about five years. It still looks pretty good for as much as I have used it. See, the inside of it is still nice.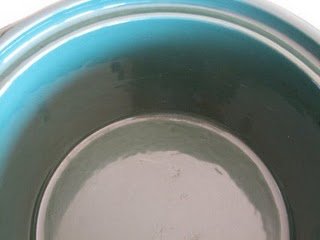 But my other crockpot is white. See what it looks like.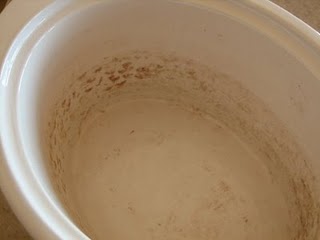 Everything seems to stain it, black beans, read beans, tomatoes, and more. It is driving me crazy. I have tried scrubbing it and it won't come off. My crockpot always looks dirty even after I have just washed it.
Does anyone else have this problem with their crockpot? Is it a problem with the light colored ones, like the white? I think it might. If that is the problem with light colored ones, I am never buying a white one again.
Any tips on how to clean it?
For more crockpot recipes and tips see Slow Cooking Thursday.