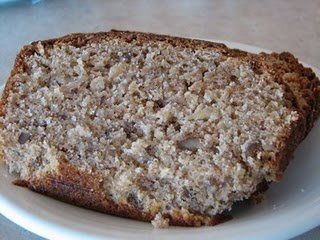 This recipe came from one of my husband's patients. She brought several loaves into our office over the years. The first time I had a piece I knew I wanted to get the recipe. It reminds me of something that my grandmother would have made. It just a basic old fashioned type recipe. It is simple with simple ingredients and basic instructions. This patient passed away several years ago. She was the sweetest lady and I am so glad that I have the recipe to remember her by.
The recipe calls this a cake but it is more like a quick bread or dessert bread. I call it Raw Apple Bread. It is called raw apple because it has chunks of apples instead of applesauce. I hope you enjoy it.
Raw Apple Cake/Bread
I am writing the directions just like I received them. This is how I make it and it turns out great.
4 cups flour
3 cups sugar
1 cup shortening
4 eggs, beaten
1 flat can crushed pineapple (undrained)
1 cup chopped pecans
1 tsp salt
1 tsp soda
1 tsp cloves
1 tsp nutmeg ( I leave this out because my husband does not like nutmeg)
1 tsp cinnamon
3 to 4 cups chopped apples ( I use 4 cups)
Mix in order given in a large bowl until well combined. Pour into two large loaf pans or three medium sized ones. Bake at 350 degrees for 1 hour and 15 minutes or until done. Check at 1 hour. Let cool about five minutes in pan and then remove from pan. Let cool before slicing. (If you slice when warm it tends to fall apart.)
I used 1 cup of whole wheat when I made it last week and it turned out really well.