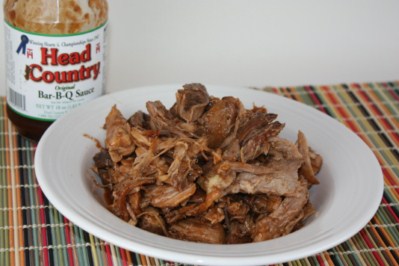 I wasn't going to do a slow cooking post today. But then when I posted my mac and cheese recipe, I realized that I had a really easy slow cooking recipe that I could post. It is so easy and it is one of my go to recipes.
It is barbecue, or as my husband calls it, fake barbecue meat. You see in the part of the country we live in, barbecue cooks and smokes for hours and hours. You need a rub or special sauce for the meat. There are all kinds of trick and techniques that people master to get their barbecue just right. I just don't have time for that. So, this is an Oregon fake style barbecue.
I take some meat, boneless skinless chicken works, so does a pork or beef roast. Pork is our favorite type of meat to use. I place it in the crockpot. I pour about 1 cup of our favorite barbecue sauce on top. I use a brand called "Head Country". It is a local Oklahoma sauce. Use whatever sauce you like. Cook on low for about 7-8 hours or until done. Remove from crockpot and shred meat. Pour over a little more sauce, maybe a cup, and mix together.
We usually eat this over hamburger buns for a sandwich, but it is good served on it's own, or over baked potatoes.