Breakfast is always one of the hardest meals for me, and I am guessing I am not alone on this, so I am always looking for fun and new ideas for breakfast.
One of our favorite foods for breakfast, or even snacks, is homemade granola bars. Homemade granola bars are easy to make and I love the fact that you can control the ingredients that go into them. Not only does this make make them healthier, it also allows you to change them up and create all kinds of flavors.
Homemade granola bars are also cheaper to make than buying them, especially if you deal with food allergies like my family does.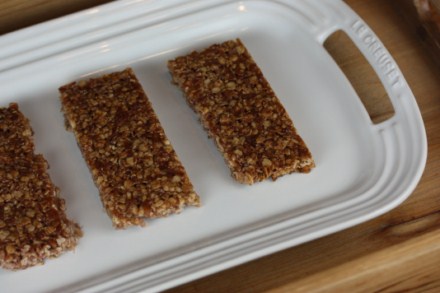 I was recently looking though a few of my cookbooks for some breakfast inspiration and came across a granola bar recipe that I had not tried before. It was similar to ones that I had tried before, but not quite the same.
The recipe was called Oatmeal Breakfast Bars, but they turned out just like a granola bar and I knew I had to share it for my Cooking Through My Collection Series.
This recipe comes from a Quick Cooking Cookbook that I have had for years. It is from the 2003 Quick Cooking Annual Recipes cookbook. It is so old in fact that I could not find one to link to online.
However, many of the other Quick Cooking Annual Recipes
 cookbooks are available used. I own several of these annual cookbooks and love them.
I have picked most of them up used over the years and they are some of my favorite recipes. Of course that might have to do with the fact that they were published by Taste of Home and you all know I love Taste of Home.
Part of the reason these cookbooks are hard to find is that Quick Cooking Magazine is no longer around. Several years ago they change it to Simple and Delicious Magazine. And although I love the new Simple and Delicious version, some of the old Quick Cooking recipes are still my favorite.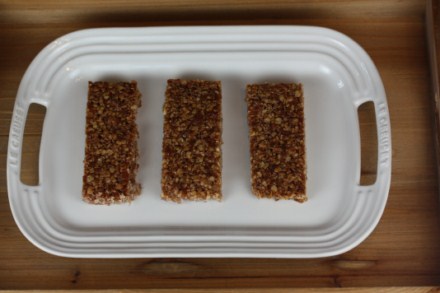 Now for the recipe. When I made these I was actually expecting them to be a soft and chewy granola bar, but they came out quite crispy and a bit harder than other homemade granola bars that I have made.
This was actually a good thing though because when my husband tasted them he said they tasted a lot like the Nature Valley granola bars that he likes so much. So, I ended up making a copycat version of something that I did not intend to, but I am so glad they ended up just like a Nature Valley bar, because we love those.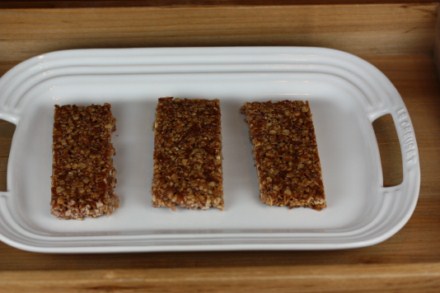 And if you do not want these to be really crunchy, just reduce the cooking time a little.
Crunchy Homemade Granola Bars
4 cups quick cooking oats
1 cup brown sugar
1 teaspoon salt
1 1/2 cups nuts ( I left these out because of my daughter's nut allergy and added in a little extra coconut.)
1 cup coconut
3/4 cup butter, melted
3/4 cup orange marmalade or other jam would work
In a large bowl combine all ingredients.
Press into a greased 15x10x1 inch pan. (My pan was not the exact size. I just used a cookie sheet type pan that I have that has sides.)
Bake at 425 degrees for 17-18 minutes or until golden brown on top.
Note: I have had a few of you comment or email that these were not crunchy or crispy for you. I think in some ovens and with a smaller size pan they made need to cook a little longer. Several of you mentioned that you added things to the recipe like raisins or craisins. I think in some cases that might be the problem because it would add some extra moisture. I have made these several times now and they have always crisped up for me. If you all have thoughts on why they are not crisping up, feel free to leave a comment.