Need an easy dairy free breakfast? These dairy free banana oatmeal muffins are an easy and delicious dairy free breakfast. They are also easy to make gluten free.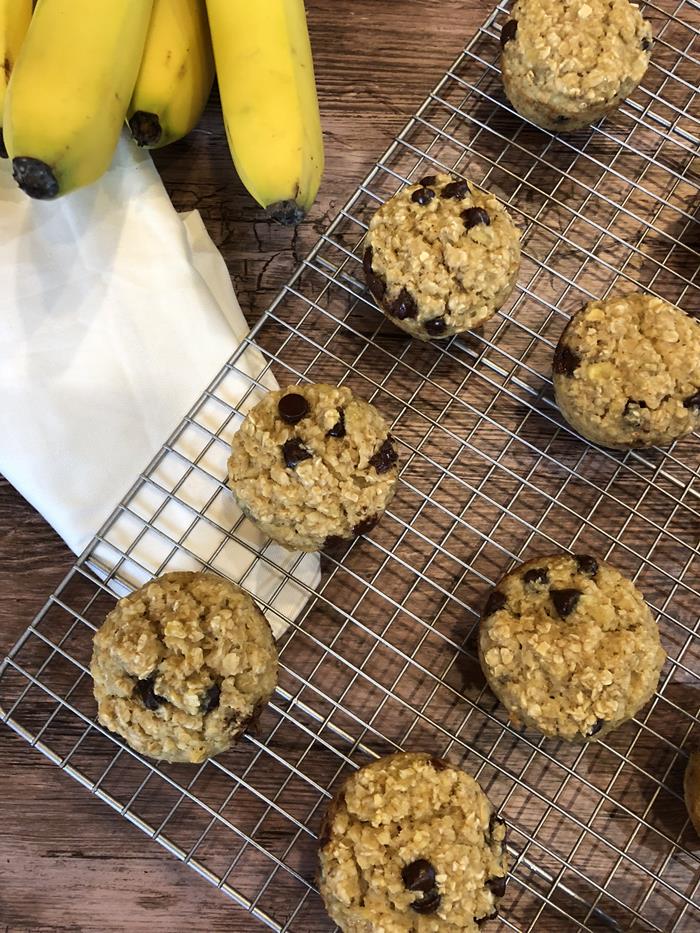 The last few months I have received a lot of questions about adapting recipes to dairy free. Often times recipes can be adapted to dairy free. Other times though adapting a recipe to dairy free can be a challenge.
My daughter is not 100% dairy free, but she does avoid it as much as possible. She is not allergic to dairy, but she feels so much better when she avoids it.
I have slowly been adapting more and more of our favorite recipes to be dairy free.
Most of the recipes I adapt to dairy free are our favorite recipes that I just adapt to dairy free. I make them, but never share the dairy free version here for you.
The emails and comments I have received over the last few months though have made me realize that quite a few readers are cooking for a dairy free child, spouse, grandchild, or friend.
Over the next few months I plan to occasionally share some of the recipes that I have adapted to dairy free.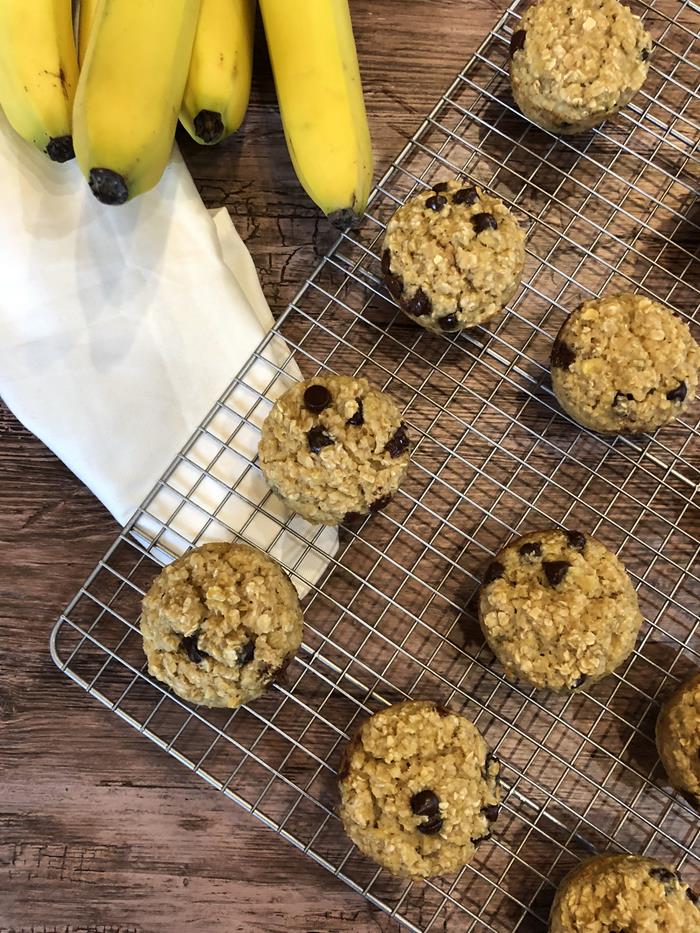 For those of you that are not dairy free or are not interested in dairy free recipes you don't have to worry about this becoming a dairy free blog. I will just be sharing an occasional dairy free recipe to help those that find them helpful.
I also plan to share the regular version when possible. So if you I have already shared the regular dairy filled version I will link to it.
The recipes will also have a gluten free option like the dairy free oatmeal breakfast muffins do today. That means regular eaters, dairy free eaters, and gluten free eaters will all be able to enjoy these!
These breakfast muffins are a dense oatmeal muffin. There is no flour in them, just oats. They are basically baked oatmeal in a muffin form.
They are easy to make ahead. They reheat great so you can make a big batch and reheat them during the week. They also freeze well for an easy dairy free breakfast breakfast.
The recipe for Banana Oatmeal Breakfast Muffins (regular version)
Now for the dairy free banana oatmeal muffin recipe!
Yield: 18 muffins
Dairy Free Banana Oatmeal Muffins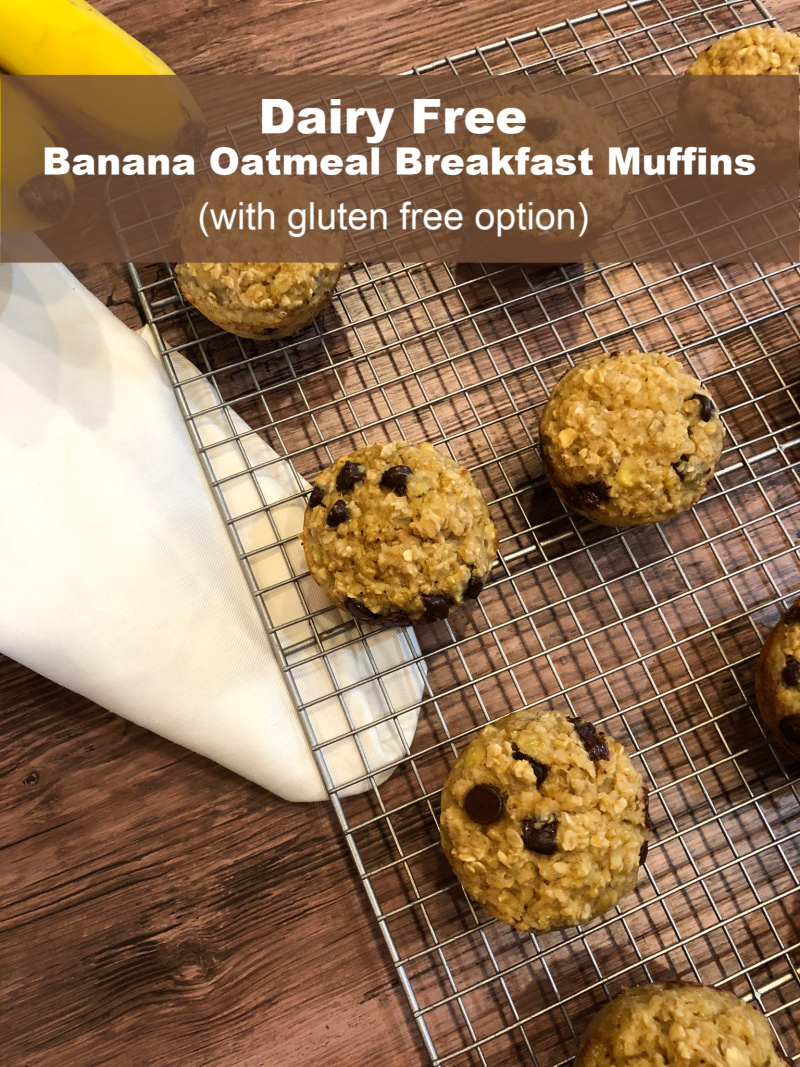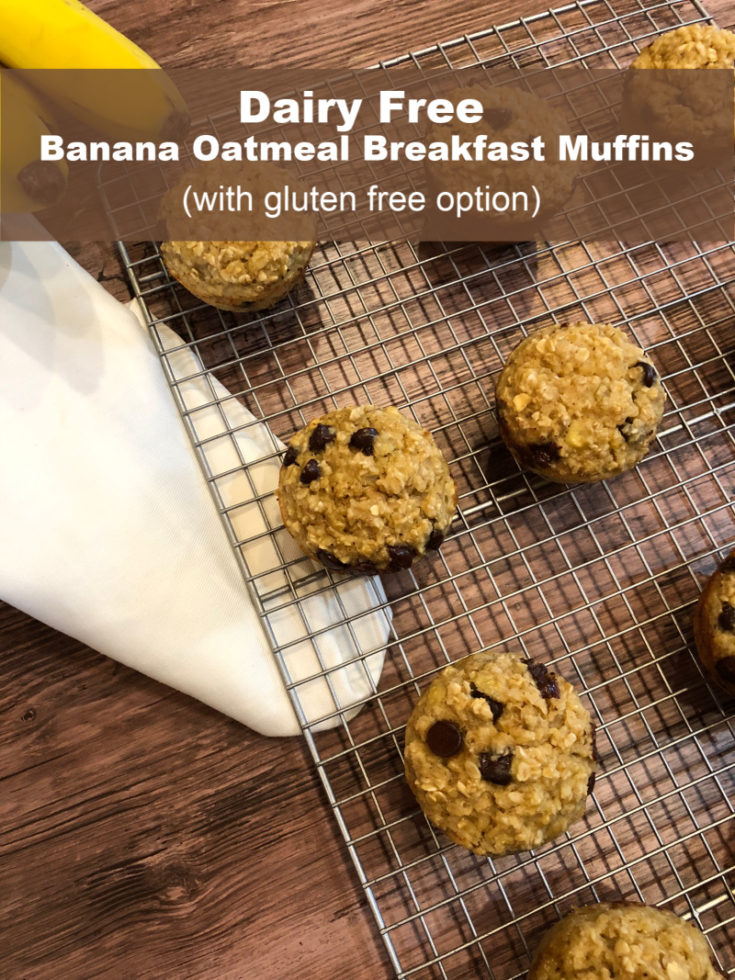 Dairy free banana oatmeal muffins are an easy dairy free breakfast. They can be made ahead and reheated. They also freeze well and can be made gluten free.
Ingredients
3 cups quick cooking oats (use gluten free oats for gluten free version)
1/2 cup brown sugar
1 cup coconut milk beverage or other dairy free milk
2 tablespoons coconut oil or other butter substitute, melted
2 eggs
2 teaspoons baking powder
3/4 teaspoons salt
2 teaspoons vanilla
3 bananas mashed
3/4 cup dairy free chocolate chips optional but good
Instructions
In a large bowl combine all ingredients except chocolate chips.
Stir well until combined.
Stir in chocolate chips.
Scoop into greased or lined muffin tin. This makes about 18 muffins.
Bake at 350 for 15-18 minutes.
Let cool for 3-4 minutes. Remove from pan and serve.
Notes
These can be made ahead and reheated. Or frozen and reheated for a quick breakfast.