Strawberry Coffee Cake is an old fashioned recipe that your family is sure to love!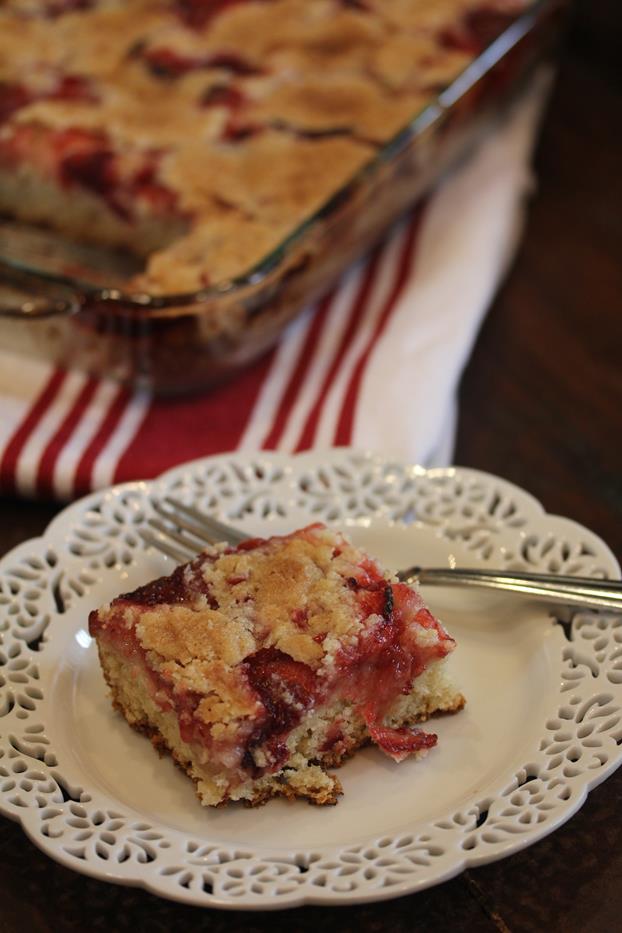 Modern food and recipes can often be complicated and full of ingredients. Sometimes I long to go back to the simple and basic recipes of years ago.
The kind of recipes our grandmothers and great grandmothers used to make. The kind of recipes that use basic everyday ingredients and the best of what is in season.
One of the things that I love to do when I visit my family in Oregon is to go through my grandmother's and my mom's recipe boxes. There are so many great old recipes from generations past in those boxes.
I have gone through these recipe boxes many times and each time different recipes catch my attention to copy down. One of these days I might just sneak my grandmother's recipe box home with me. It is a treasure I would love to have.
Going through recipe boxes like my grandma's also makes me realize the younger generations will not have treasures like this. Yes, there will still be recipes boxes, but so much now is online.
Yes, my kids will basically have my whole website instead of a recipe box, but a website or online recipe box, doesn't seem quite the same as a recipe handwritten by a past generation.
I think maybe future generations will miss out on what a treasure hand written recipes and recipe boxes are.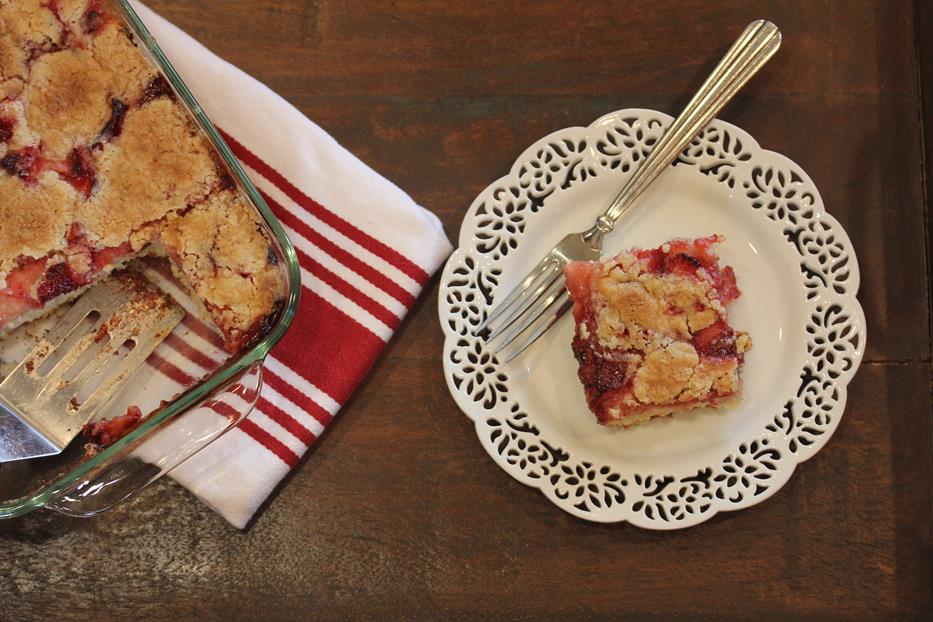 When I went through some of my grandma's recipes on a recent trip to Oregon, a recipe for Strawberry Crunch Cake caught my attention. It was not a hand written recipe, but instead was a recipe that my grandma must have cut out or off of something.
My grandma often saved recipes off the back of bags and boxes. In fact, some of my favorite recipes from my grandma come from recipes she cut out and then made notes about how she changed them up.
As soon as I saw this recipe for Strawberry Crunch Cake I knew I needed to make it. I could tell it was a form of a coffee cake.
It is kind of a cross between a cake and a biscuit type shortcake. I decided to call it Strawberry Coffee Cake because it reminds me a lot of a coffee cake, but whatever you call it, it is really good.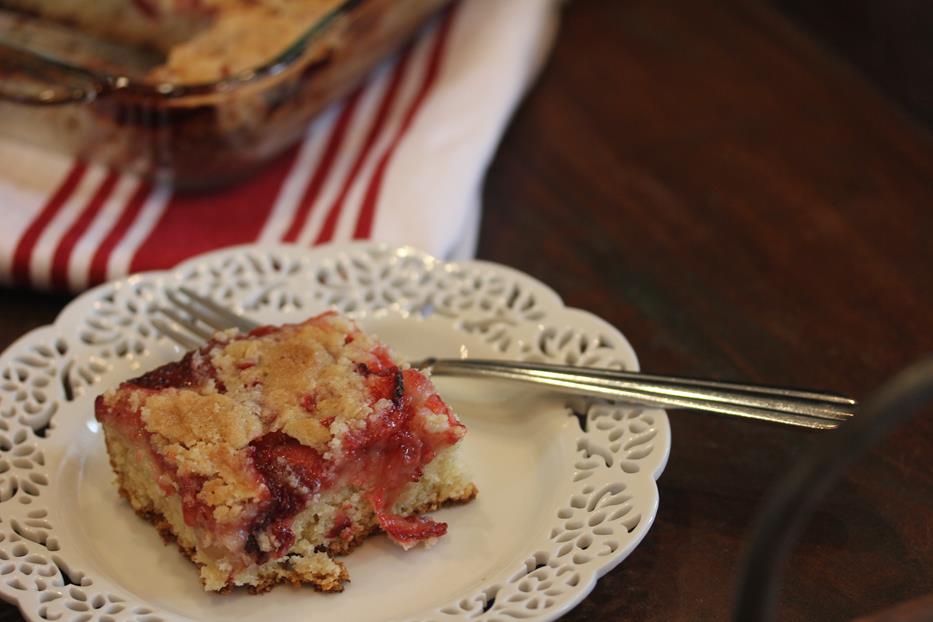 This reminds me of a coffee cake because it has the texture of a coffee cake. It is not dry, but it does not have the texture of a regular cake either. It is a lot like coffee cakes that I have made because the cake batter is not really a batter, it is more of a thick press in the pan type batter.
My family loved this warm from the oven. It was delicious! It was also very good the next day reheated in the microwave to warm it up slightly.
What I love most about this is that it uses pretty basic everyday ingredients. And it is perfect for this time of year when fresh strawberries are readily available.
Looking for other old fashioned basic recipes?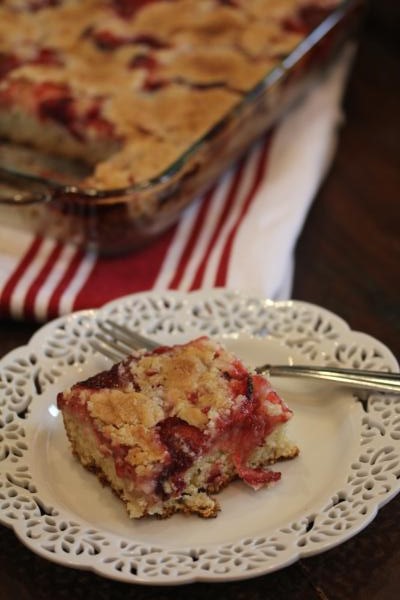 Yield: 12 servings
Strawberry Coffee Cake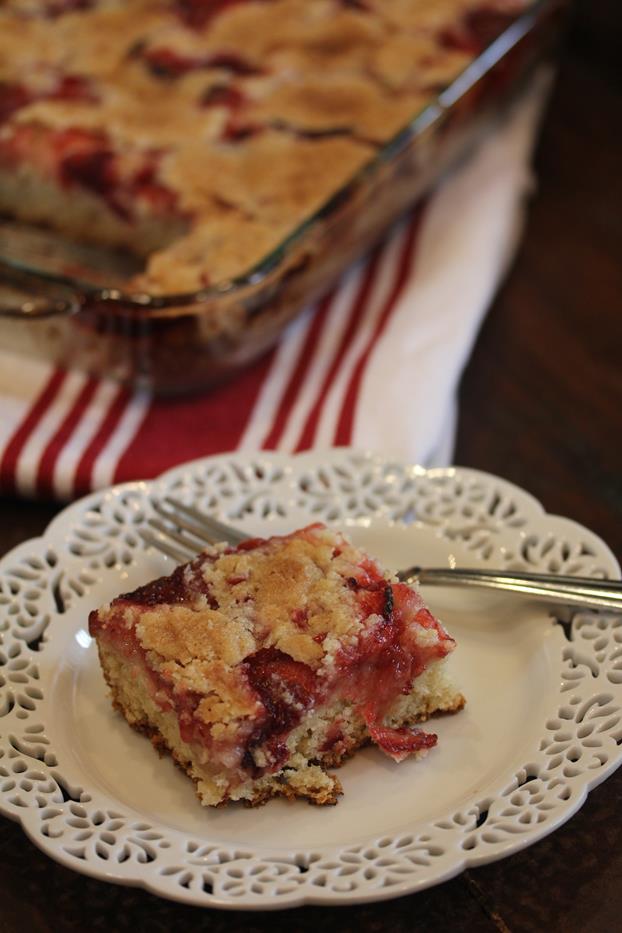 Strawberry Coffee Cake is an old fashioned coffee cake that my grandmother used to make. It is easy to make using basic ingredients.
Ingredients
Cake
2 cups flour ( I used Bob's Red Mill 1 to 1 gf flour)
4 teaspoons baking powder
⅓ cup sugar
¾ teaspoon salt
⅓ cup shortening
⅔ cup milk
1 egg
Filling
2 cups sliced strawberries
½ cup sugar
Topping
¼ cup butter
¼ cup sugar
⅓ cup flour ( I used Bob's Red Mill 1 to 1 gf flour)
Instructions
Preheat oven to 375.
In a bowl combine flour, baking powder, ⅓ cup sugar, and salt.
Cut in shortening until well mixed and shortening is about pea sized.
In a small bowl combine milk and egg. Stir into flour mixture.
Spread/press mixture into 11 x 7 inch Pyrex pan.
Spoon berries over batter.
Sprinkle with ½ cup sugar.
In a small bowl combine ¼ cup sugar and ⅓ cup flour.
Cut in butter until crumbly and butter is pea sized or smaller.
Sprinkle over strawberry mixtures.
Bake for 35-40 minutes or until cake is set, and toothpick inserted into the center comes out clean. Be sure not to over bake though.
Let cool slightly and enjoy! Or reheat slightly for serving.
Notes
This can be made gluten free by using a gluten free flour blend. I have made it with Bob's Red Mill 1 to 1 gluten free blend and it works great.
Nutrition Information:
Yield:
12
Serving Size:
1
Amount Per Serving:
Calories:

266
Total Fat:

10g
Saturated Fat:

5g
Trans Fat:

0g
Unsaturated Fat:

5g
Cholesterol:

30mg
Sodium:

339mg
Carbohydrates:

40g
Fiber:

1g
Sugar:

19g
Protein:

4g
Originally published May 26, 2015. Updated May 21, 2019