Do you miss whipped topping since going dairy free?
My daughter Gracelyn has been helping me behind the scenes on my site updating posts, working on recipes, etc. She eats gluten free and dairy free, so I have convinced her to occasionally share some of her favorite products and recipes with you.
I know not everyone eats dairy-free or gluten-free, but most people at least know someone that does. So, even if you do not need to eat dairy free, I hope you find Gracelyn's thoughts and reviews helpful.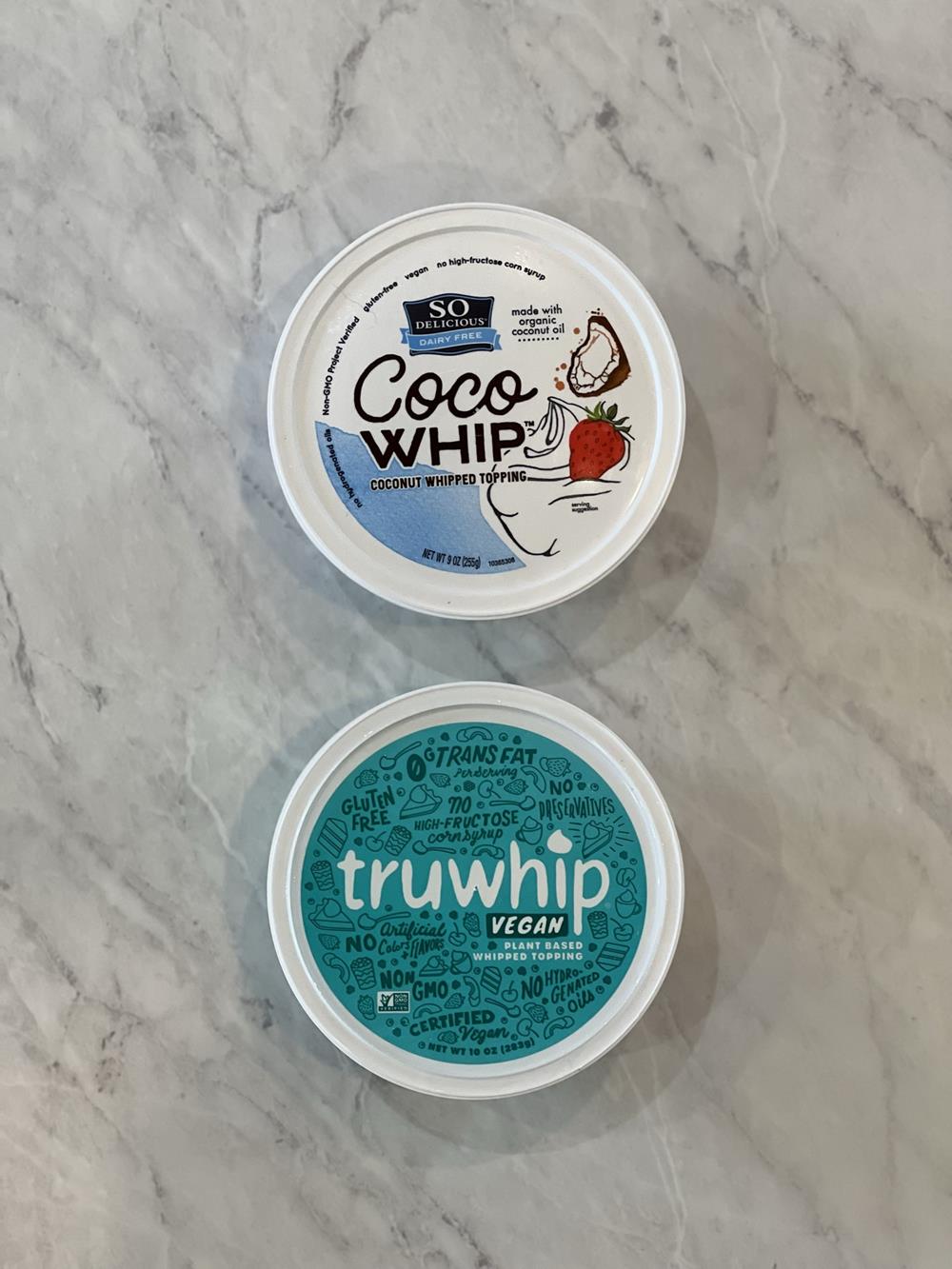 Treats with whipped cream, also known as whipped topping, can seem far away for those on dairy free diets.
Have you felt this way? Do you miss Cool Whip and whipped toppings? Or have you know a friend or family member who avoids dairy or is even allergic to dairy that misses it?
As someone, who avoids most dairy, I eat a lot of dairy-free products. There are many products that I struggle to find to be as good as the dairy filled version. One example is whipped topping.
I am talking about the Cool Whip style, not the spray can. I will try to do a separate review on the dairy free can of whipped topping.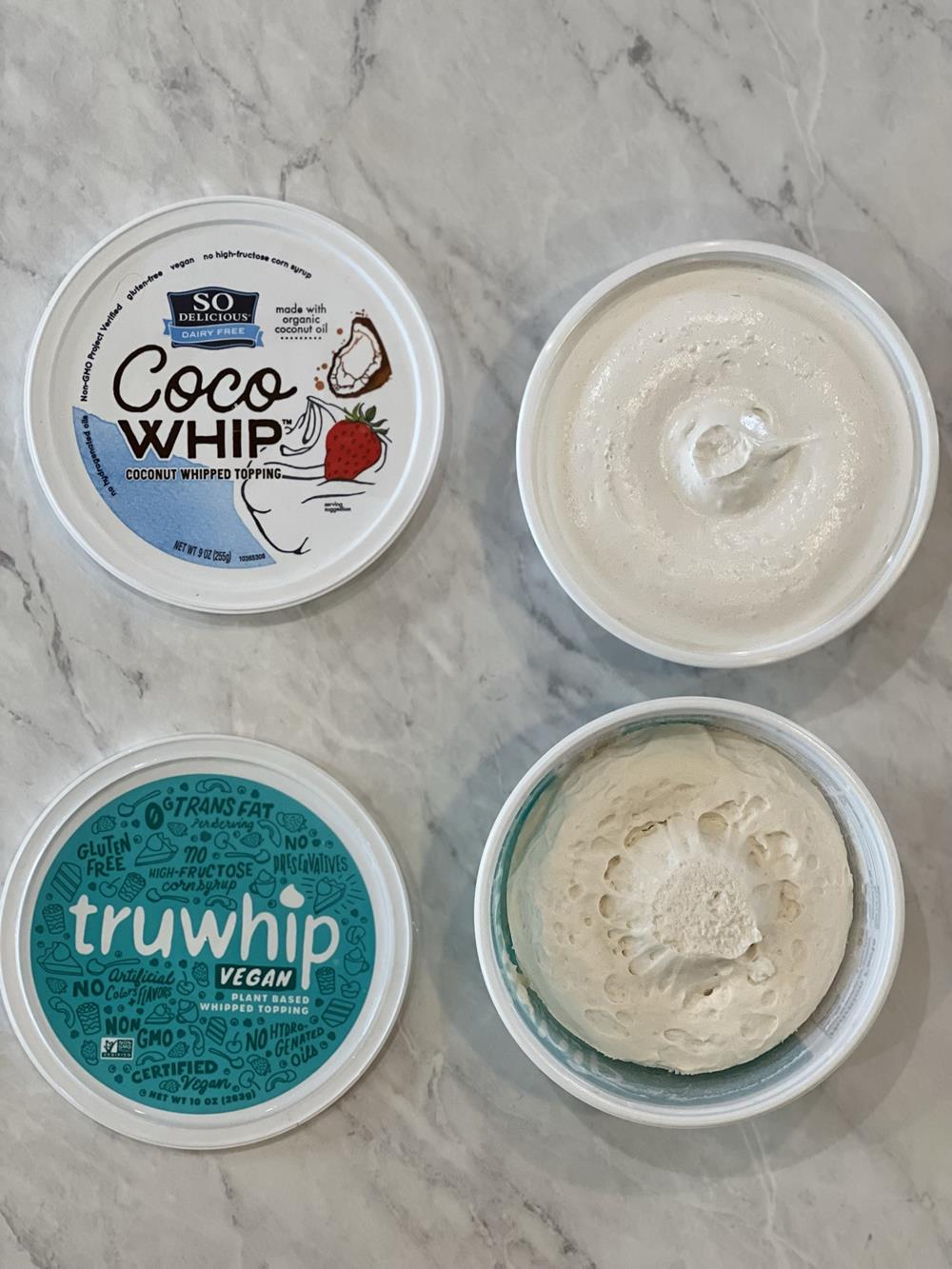 Original Disappointment
Several years ago I tried dairy-free whipped cream and was quickly disappointed by the taste and results.
Defeat can sometimes feel better than trying a pitiful recreation of whipped cream on your hot chocolate or a delicious trifle that you used to enjoy. And maybe the dairy-free version of whip cream you once tried, almost ruined that treat for you forever.
If you are like me you might have just given up on ever enjoying those things again.
New Discovery
However, I have recently discovered two whipped toppings that are a step closer to the original than I have tried before.
So of course, I am sharing them with you.
Truwhip
It is better than it looks. That's the best way to phrase it after you have seen the picture above.
Upon using it in both a fruit salad dessert dish and a trifle, I found that it held up to the test and texture better. It acted more like whipped cream than other dairy-free whipped creams that I have tried.
Denser, yes, but it didn't melt away, get too soft, or even bring out too many of its own flavors. Like coconut. I cannot recount how many times I have had coconut-flavored desserts due to the fact that many dairy-free products are flavored this way.
It does look a little sad. Upon opening Truwhip, it is shocking to see that it only takes up about half the container. This dairy-free whipped cream looks a bit thick almost more like frosting than whipped topping.
As a spoonful, it shows its face that it is dairy free, so if you loved once upon a time to just eat a spoonful, this would be a little sad that way.
However, once folding it in, its texture does not really change. It still keeps a good whipped cream hold on the ingredients it is being folded into.
It actually tastes great in it. I found that it lasts at least two days with a good texture in the recipe once folded in.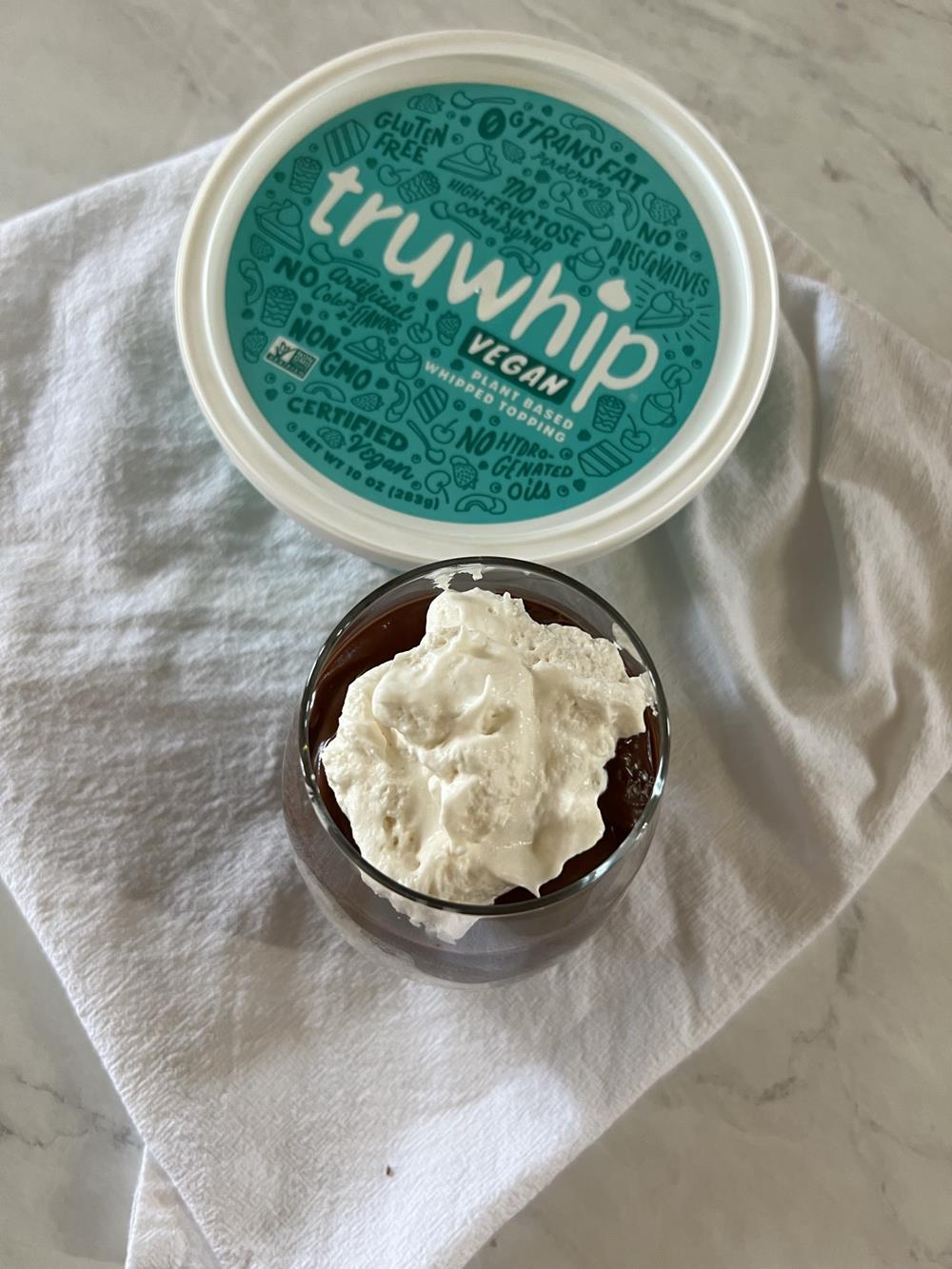 When making a dairy-filled edition beside it, the responses to the creation process and progression over two days felt very close.
It does have a small flavor but it does not stand out, making it a dairy-free whip cream that I will buy again when a recipe calls for Cool Whip.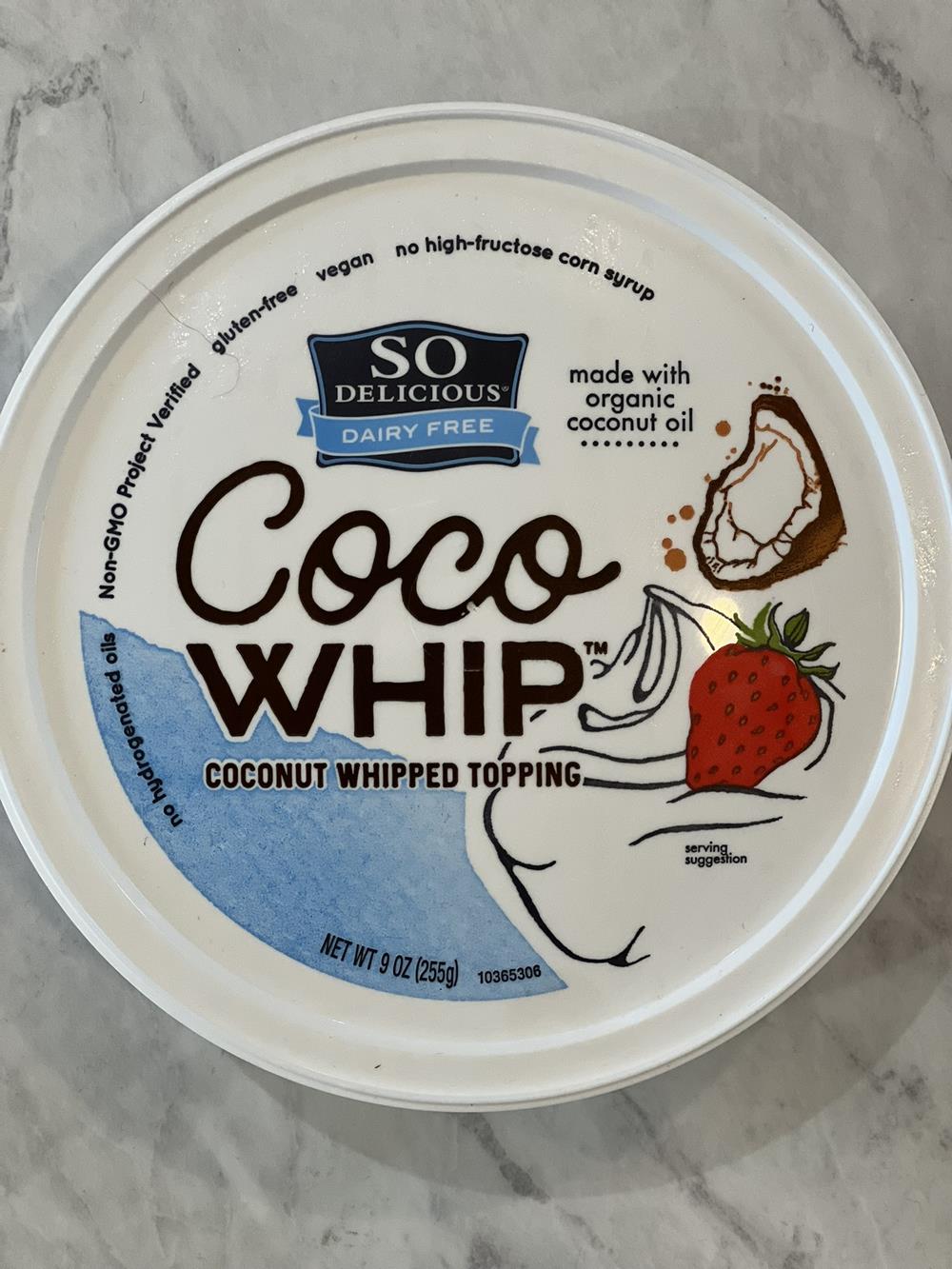 CocoWhip
Once popping the container open it appears amazing. Fluffy. Lovely swirl. Airy. Just like the real thing.
A spoonful gives you a coconut taste but nothing dairy free that I have tasted has felt so airy. So whipped.
On a cup of apple cider or hot chocolate, I can see the delightful scoop melting. A dairy-free cobbler would most likely feel lightened by having a dollop of CocoWhip.
In actual recipes, though, it felt kind of sad. It lost the air quickly. CocoWhip melted almost as soon as it was folded in.
It didn't remain steady in the dishes. It also held an overbearing coconut taste that wouldn't go away.
The coconut flavor didn't snap as much as the previous dairy-free whip cream that I previously tried, but it still crept into the food.
Testing it and trying to fold it in a fruit salad it lost a lot of volume and overall did not fold in well.
Layered in trifle it sank more than the TruWhip and also gained a liquid-like film to it.
However, I liked it better in the trifle than in the fruit salad. It held up better in the trifle probably because it was just scooped in rather than being folded.
For topping or just a spoonful, it feels good, but for actual recipes, it doesn't seem to hold up to the test as much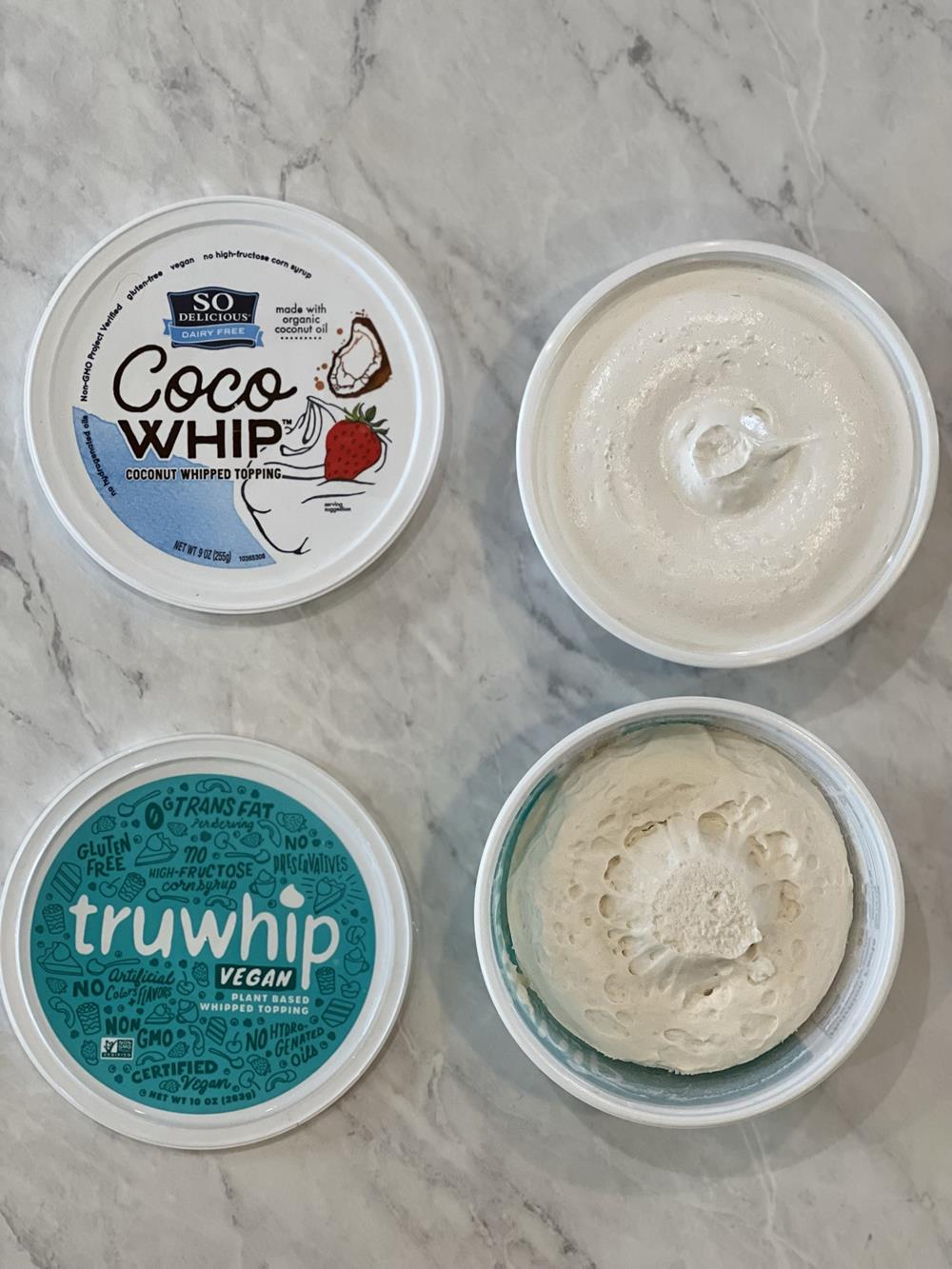 Truwhip vs. CocoWhip
CocoWhip looks better. Truwhip appears sad but adjusts to recipes better.
Due to the texture of Truwhip, it appears to be more durable than Cocowhip. These two look vastly different and even taste different.
The dull taste of Truwhip allows it to blend in and take on the disguise of being more like a cool whip whereas Cocowhip stands out with its coconut flavor.
Making dairy free banana splits with dairy-free ingredients already like coconut chocolate sauce and coconut-based ice cream, Cocowhip would be a great topping.
It would also be good on the hot chocolate already made with coconut milk or nut milk. Cocowhip will add an airy topping that won't overbear it and will melt into the heat of the delicious drink.
However, Truwhip will blend and hold up better in desserts that you need to stir or fold the whipped topping into.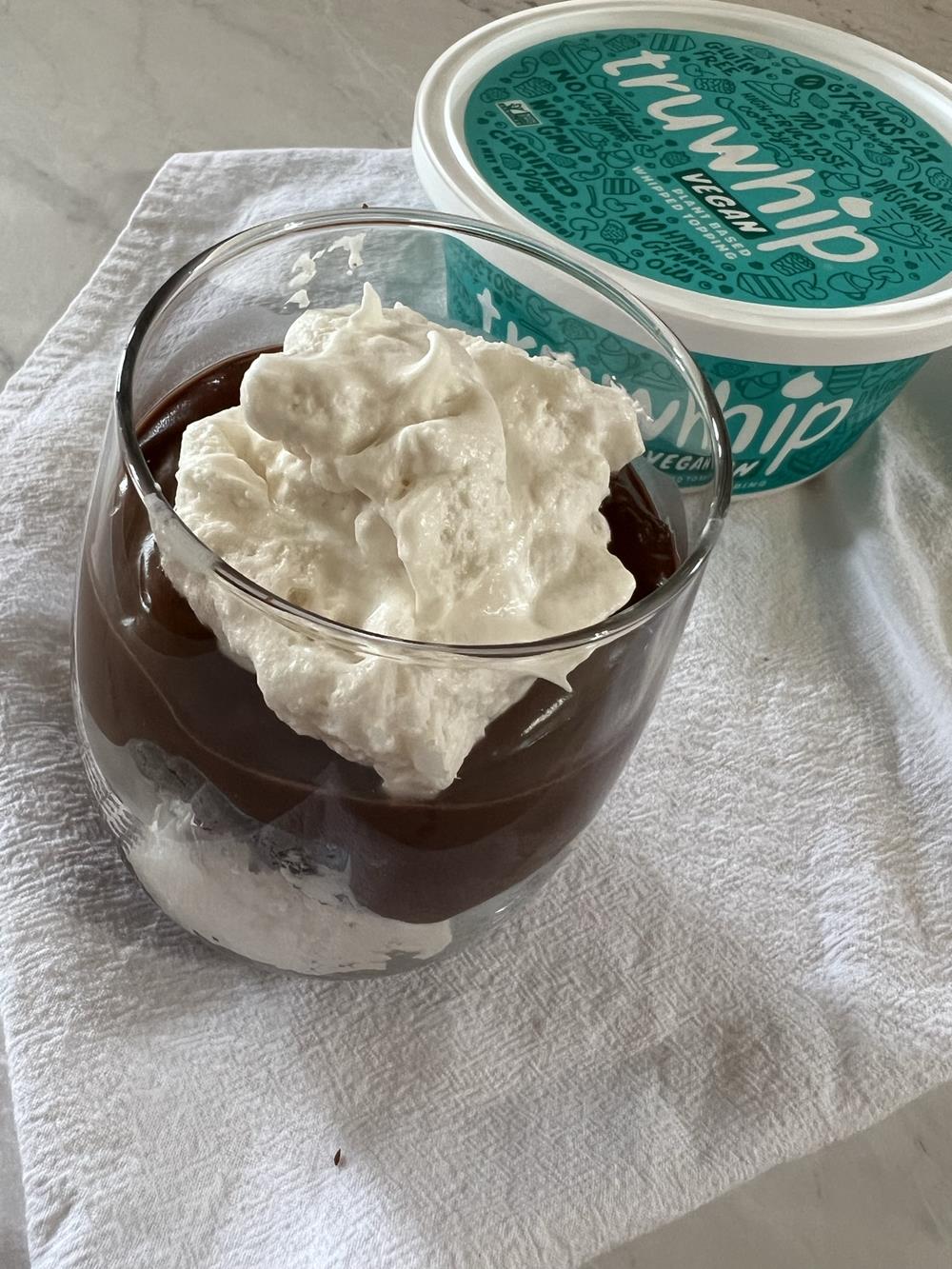 The Winner
The winner in my book was Truwhip. Truwhip works more widely and in ways I would want to use it.
I have kind of gotten used to having no whipped cream on a cobbler or hot chocolate. I miss desserts that you often fold whipped topping into.
Even though Truwhip looks sad, it actually acts closely to what I see normal whipped cream acting like.
Making your own might be the only way to top Truwhip at this time.
Do you have a go to dairy free whipped cream or topping?
And we will be sharing how we made our dairy free trifle soon!
Need more gluten free dairy free recipes? Check out our list on GF Kitchen Adventures.