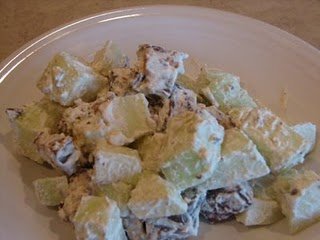 My kids love this salad. It really should not be called a salad. Anything that contains Snickers candy bars, really can't be considered a salad. It is a dessert. But it is a quick, easy, and really yummy dessert. And the word salad in it makes is seem…..healthy.
Snickers Apple Salad
5 or 6 granny smith or other tart apples
3 snickers bars
4 ounces of Coolwhip
Peel apples. Cut into bite size pieces. Cut Snicker bars into bite size pieces. Mix together and fold in Coolwhip. Serve and enjoy.
Note: This recipe is not exact just follow the basic idea.