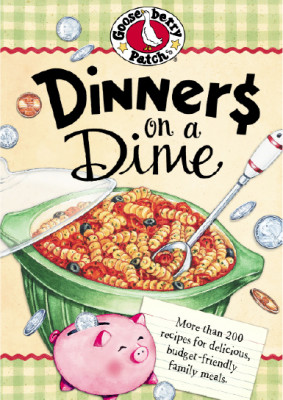 I mentioned last week about my struggles with finding time to read, but one thing I forgot to mention in that post was how much I love my Kindle
. I would not have read even the books I managed to last year if it had not been for my Kindle
It is so nice to be able to keep it in my purse or bag to take out when I am sitting at appointments, piano lessons, in the car, and when traveling. I started out with just a few books on my kindle, but I am slowing adding more and more as I find them for a good price.
One of the things that I have been amazed with is the amount of free books, and even books for under $1, that are available for the Kindle. And I have even found some cookbooks for free or very inexpensive.
I recently discovered that Gooseberry Patch
has quite a few cookbooks on the Kindle and many of them are under $1. Right now you can get the Dinners on a Dime Cookbook: More than 200 recipes for delicious, budget-friendly family meals for only 99 cents on the kindle. That is a great deal for 200 recipes and I know many of you love Gooseberry Patch and their cookbooks.
And if you don't have a Kindle, don't worry, Amazon has you covered
with lots of other options and apps available for reading ebooks.
Now I am curious, who else loves their Kindle or other ebook reader? Do you find you read more with all the options for ebooks?
Note: Prices on Amazon change so these prices may not last long.