Thank you all so much for your kind comments on my post earlier this week. I really appreciate everyone who took the time to leave a comment and encourage me. It is nice to know that I am not the only one struggling to balance it all. And thank you all for understanding as I adjust my schedule and figure out how to make it all work.
Now on to easy cheeseburger pie.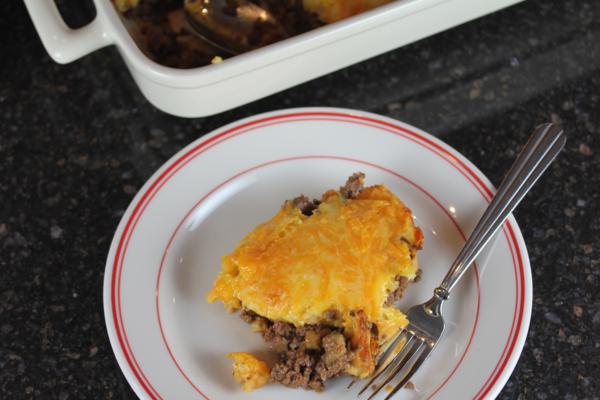 This cheeseburger pie is one of those quick and easy recipes that I love. It is the same basic idea as my Pop Up Pizza Pie, my Pop Up Taco Pie, and my Chili Pie.
They are all the same basic batter on top with a different filling underneath. If you are gluten free be sure to check out my gluten free version. The gluten free batter will work on any of them.
I love this basic recipe because it is easy to make and my kids love it. Every version I have made quickly becomes a favorite.
The basic recipe is one of those tried and true recipes that I have been making lately, but have changed up so that my family does not feel like I am making the same meal over and over.
Each version is very similar and yet very different. By tweaking a few simple things and ingredients I have taken a simple recipe and made it work in different ways.
This cheeseburger version is one I came up with a few months ago. It is basically the flavors of a cheeseburger, but in a simple casserole type dish. Easy and delicious!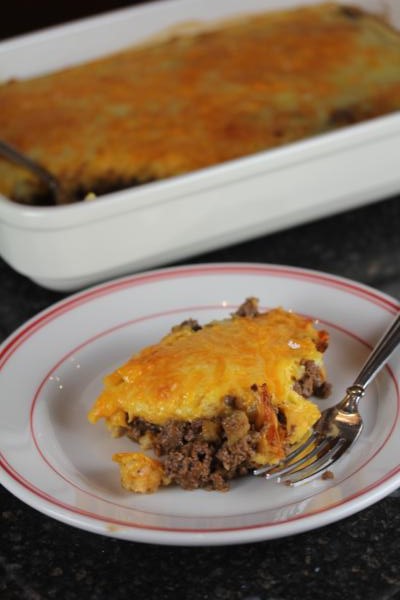 Cheeseburger Pie
Ingredients
2 pounds




ground beef

1/2 teaspoon




garlic powder

1/2 cup




ketchup

1/4 cup




mustard

2 cups




shredded cheddar cheese

1/2 cup




chopped pickles

1 cup




milk

1 tablespoon




oil

2




eggs

1 cup




flour

1/2 teaspoon




salt
Cooking Directions
Preheat oven to 400 degrees.
In a skillet cook ground beef until down. Drain off any fat.
Stir in garlic powder, ketchup, mustard, cheese, and pickles.
Spread mixture into a 9×13 pan. Set aside.
In a bowl whisk together remaining ingredients until batter is smooth.
Pour over meat mixture.
Bake for 25 minutes.
Serve immediately.