Today I am changing it up a little bit and am sharing a few things that have been on my mind and heart lately. This post has actually been swirling around in my mind for weeks and I finally decided it was time to sit down and make it happen. It is a totally random keeping it real, what I have been thinking, type of post.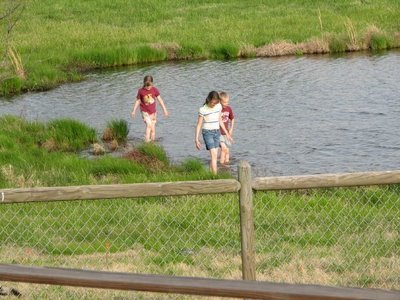 This is a picture of my kids early is my blogging years. I started this site in 2008 and I believe this picture was taken sometime during the summer of 2008.
They are all now teenagers.
My oldest daughter is driving a car, working part time, and is taller than I am. My second daughter has become quite the baker and is often taking over the kitchen to work on something. My son just turned 13 and is quickly approaching 6 feet tall. And none of them really like me sharing pictures of them now, so you will have to just imagine a new recent picture here.
But oh how they have changed. It makes me kind of sad and kind of happy at the same time. The teen years do that to you don't they?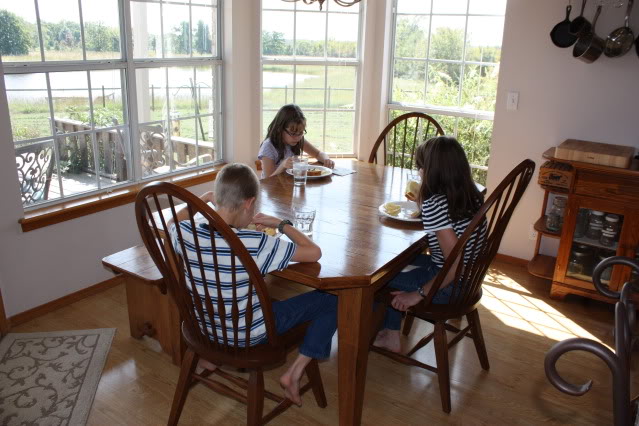 Part of me longs for the simpler times of when they were younger, but part of me is excited to see what they are becoming and what God has planned for their lives.
And that all leads me to some of what has been on my mind.
When I started this site it was totally a hobby. It was something I did in my spare time and it was fun. What it has become is far more than I every imagined it could be.
I have learned so much. Shared so much. And formed friendships with readers and bloggers that I am so grateful for. The amount of online friends that have become in real life friends continues to amaze me.
I am truly thankful for this little spot on the online world that I have.
The online world has changed so much though since I started blogging in 2008. And right now all those changes are what I am struggling with.
When I started blogging no one really had Facebook pages to manage. Yes, there was Facebook, but it was not what social media presence it is today. And although Pinterest and Instagram both have a huge presence in the online world now, they were not even created back in 2008.
And do you know what? I kind of miss life before Facebook pages, Pinterest, and Instagram. Yes, yes I do.
Now, don't get me wrong, I love some of what these things have done. I love interacting with my readers on my Facebook page. I love sharing a look at my everyday life on Instagram. And I totally love much of the DIY lifestyle that Pinterest has created.
But life with all those things has become noisy and for a blogger it has made what we do a lot more time consuming. Keeping up with all that social media can be a job, or two, in and of itself.
And can we talk about how Pinterest has changed pictures for a minute.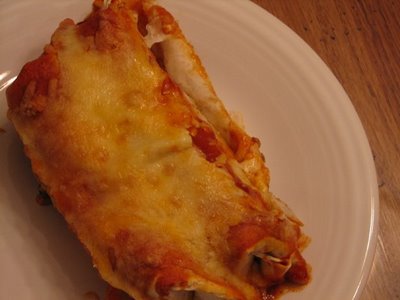 This is the photo I used for my Three Cheese Enchilada recipe back in 2008. I cringe at the photo. Really I almost did not put it in this post today. It is that bad of a photo. But the reality is that it is what dinner looks like most nights at my house and probably yours too.
I took that picture quickly as I was serving my family dinner. I then quickly wrote a post about what I made and shared it with my readers.
There was no fancy lighting. No photo editing. No props. Nothing. It was literally a picture of the food on one of our plates right before we ate it. And yet readers loved it. Quite a few of you tried that recipe and really enjoyed it.
Long gone are the days of being able to do that. Readers now expect more than that.
This is a picture I shared recently for Beef Enchilada Rice Casserole. Now I will totally admit that the picture is far from perfect. It does not even begin to compare to many you see on some sites and on Pinterest, but it still did take a whole lot more work and thought than the enchilada recipe I shared back in 2008.
The reality of that recent picture is that I was worried about props, lighting, and getting the right angle, while my entire family was waiting behind me, begging me to be done, so that they could just sit down and eat dinner.
They did not really care if I got a good photo or not, they wanted dinner. And in the end I gave up on getting the perfect picture and let them eat dinner. Because the reality is my family has to come before a Pinterest perfect picture. And that is where I am struggling right now.
That balance between keeping up with this site and all it takes to make it work in the online world and keeping up with my family and what it takes to do what I need to do for them. That is what I am struggling with.
It was easy when I felt like I could just quickly snap a picture of dinner or dessert just before we ate it. It was much easier before the days of Pinterest and magazine perfect photos. Before all kinds of props, fancy photo editing, and special lighting.
I totally get why those things are important. I see why they make better photos. I see why that is what everyone loves to see. I see from a business perspective why everyone takes time do that. I really do get it.
What I am struggling with is fitting my life into that edited picture perfect online world. And honestly I am not sure I want to fit into it because my life is far from picture perfect.
I have always wanted this site to truly be a look into my life in the kitchen. I want it to be what I am cooking and fixing my family. The tips I use and how I balance a busy life and serving my family home cooked meals. That is what I want this site to be, not a perfect, edited, unrealistic view of my kitchen life.
Dinner at my house is not always, in fact it is almost never, beautiful perfectly-plated food. More often than not it is quickly served buffet style, as we struggle to all come together in the midst of a busy day for a family meal where we can share and connect. And if I had to guess that is the reality of dinner at most of your houses as well.
It is far from perfect, but those are the kind of meals that make family important and those are the kinds of meals I want to encourage you to make. The kind of meals where the food is less than perfect, but the moments and memories that are created are perfect because they will last a lifetime.
Besides feeling all that, after so many years of blogging, there are a lot of behind the scenes things, the tech stuff that readers never see, but that are necessary to keep this website going, that I am so behind on. I have to figure out how to catch up.
I am also trying really hard to take weekends off. Our schedules have gotten a bit crazier as the kids have grown and I just need the weekends to be family only time. This means more planning and scheduling ahead when it comes to posts and social media.
And as our schedules get busier and my focus is a little different, it means that I am not trying as many new recipes and new things. Yes, I am still cooking and serving home cooked meals and recipes, hello feeding three teens, but I find myself relying on old favorites instead of developing new ones.
So if you made it through all my rambling and are still reading this post, you are probably wondering what the point of this post and all this rambling means and why I bothered to share it.
It all means that I right now I am struggling to find the balance between real life and online life. And it means that I am struggling to keep up with what it takes to make it in the online world now, while staying true to the picture of my everyday kitchen life that I want this site to be.
As all too often in life in general, it is all about the struggle to find the balance. The figuring out how to make it all work. And I felt I needed to share that struggle with all of you. I thought many of you would understand.
I do want to make clear that I am not going anywhere. I love this site and the little place on the online world that I have. I am not anywhere near ready to give that up. I am not going anywhere.
What it does mean though is that you may see less of me as I try to balance it all.
You may see a few less new recipes and more simple Ask the Readers, kitchen tips, or Everyday Adventures type posts.
It may also mean that my weekly menu plan and gluten free menu plan look very similar each week because I am relying on tried and true favorites that don't take much thought or energy to make.
If I go a few days without posting it means that I am working behind the scenes to catch up or I am focusing on family, friends, and real life for a few days. And if I know my readers like I think I do, I think you all will understand exactly why I am doing that.
I can't leave this post without a giant thank you to all of you! You help make this site what it is. Many of you have been reading for years and others of you have just found my site, but I am thankful for each and everyone of you that come back day after day to read about my adventures in the kitchen. THANK YOU!!