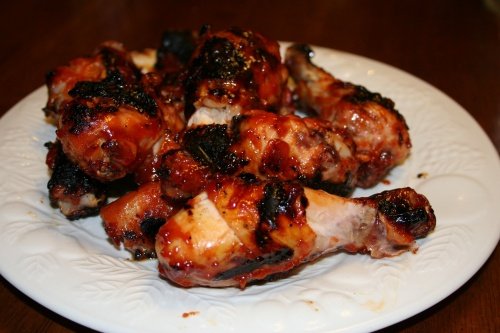 I love sharing quick and easy gluten free dinners. Today's quick and easy gluten free dinner idea comes from my sister and it looks delicious. This will be going on my menu plan soon! Thanks Flora for sharing this quick and easy dinner that is perfect for summer. 
If you've ever made homemade barbecue sauce, you know the ingredient list of tomatoes, sugar, and vinegar, sounds extremely similar to the ingredients of ketchup.
So, it only makes sense that you can prepare a very tasty, sweet and tangy glaze using ketchup as the key ingredient. Not only it this dish simple to prepare, but it's also very inexpensive, with ingredients you most likely have in the cupboard.
Although I used drumsticks here, to keep this dish super kid-friendly, you could really use any cut of chicken, you'll just have to adjust the cooking time accordingly.
Due to sugars in the glaze, the chicken does brown rather easily; so if you are serving picky eaters, you might want to watch these while they cook a bit closer than I did avoid the charred spots.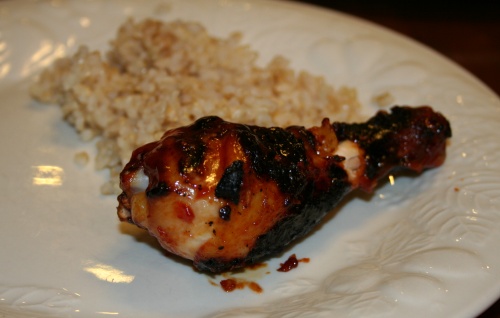 Grilled Ketchup Glazed Drumsticks
1 cup ketchup

2 tablespoons olive oil

2 tablespoons apple cider vinegar

2 cloves garlic, smashed

¼ cup brown sugar

½ teaspoon salt

1 ½ pounds chicken drumsticks (about 8)
In a resealable plastic bag or a shallow baking dish, combine the ketchup, oil, vinegar, garlic, brown sugar, and salt; mix well to combine. Remove about ¼ cup sauce and set aside for basting.

Add the drumsticks to the bag or dish and marinade for 30 minutes.

Preheat a grill. Remove the drumsticks from the marinade and grill over medium heat, basting with reserved sauce and turning occasionally, until skin is crispy and juices run clear (and a meat thermometer reads 180), about 25-30 minutes.