I have been known to buy pre-grated cheese. Yes, yes I have and I don't have a problem saying it. It is often on sale and saves me a step on busy days.
However, I am the first to admit that pre-grated or pre-shredded cheese does not melt the same. They often add stuff to it to prevent caking and it just does not melt the same as a plain old block of cheese that I shred myself. So for some things I do prefer the to buy a block of cheese and shred it at home.
One thing I hate about shredding cheese though is cleaning the grater. Yes, it is a simple thing, but it is something I find a pain. Which is why I was so excited to find a way to make clean up a little easier when using my grater.
For those of you that hate cleaning your grater as much as I do, I hope this tip helps.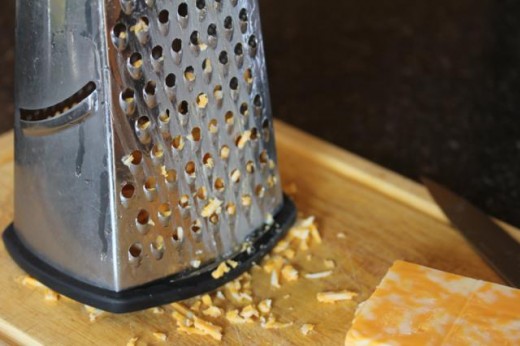 All I do is spray it with a little oil. Or you can use a can of oil type spray. I love my Misto oil sprayer. It does not take much. Just spray it a little before you shred the cheese.
Shred the cheese as you normally would and then clean the grater. The cheese wipes up much easier. Now, you still have to clean it, but it is easier.
It is hard to tell in the picture above, but the top part of the grater has been wiped with just a paper towel and it got most of the cheese off.
This really does work and now I don't dread shredding cheese so much. Sometimes it is the simple things that make us happy.