Easy Skillet Lasagna is one of those quick and easy one dish dinners that we all love.
My family loves lasagna and although I love lasagna, I don't really like the time it takes to make a pan of lasagna for a weeknight meal.

Easy Skillet Lasagna though is a great substitute for it because it has all the flavors of lasagna, but in an easy one dish meal that I can have on the table in 30 minutes or less.
It is simple and delicious and we all need more meals like that.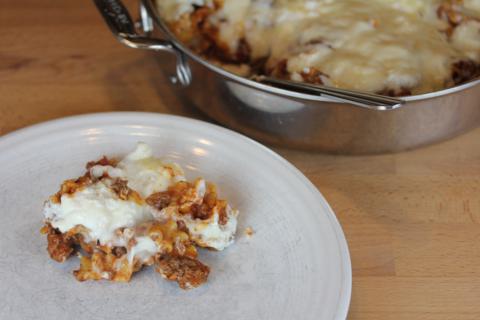 Easy Skillet Lasagna
1 pound ground beef
1 onion, finely chopped
1 clove garlic minced
1- 14 1/2 ounce diced tomatoes, undrained
1 1/2 cups water
1 – 6 ounce can tomato paste
1 tablespoon dried parsley flakes
2 teaspoons dried oregano
1 teaspoon salt
2 1/2 cups broken lasagna noodles or other similar shaped pasta (I used Sam Mills Pasta D'Oro Gluten Free, Lasagne Corte)
3/4 cup ricotta cheese
1/4 cup grated Parmesan cheese
1 cup shredded mozzarella cheese
In a large skillet cook beef with onion until beef is cooked and onion is tender. Add garlic and cook for 1 more minute.
Add tomatoes, water, tomato paste, parsley, oregano, and salt. Stir well.
Add in pasta and stir. Bring to a boil, then reduce heat. Cover and simmer 20 minutes, checking part way through. Add more water if needed.
Combine Parmesan cheese and ricotta cheese and drop by spoonfuls on top of pasta mixture. Sprinkle with mozzarella cheese and cook covered 5 more minutes or until cheese has melted.
Serve and enjoy!