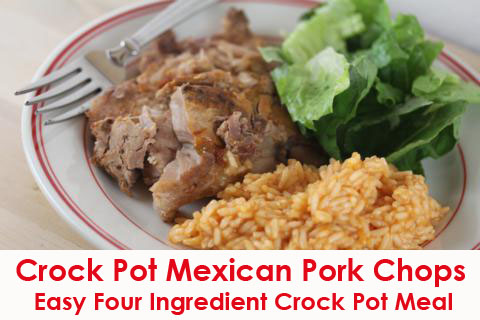 One of the things I think we all love about crock pot meals is how quick and easy they are to make. A few simple ingredients put in the crock pot early in the day and dinner is ready and waiting at the end of the day.
This recipe is just that. It is simple, plus quick and easy to make and contains everyday ingredients. In fact, it only contains four ingredients. You cannot get much more simple than that.
This is so delicious and tender. In fact, the pork chop fell apart when I put it on the plate to get the photograph. Fork tender pork chops, delicious!
Serve this with Mexican rice and a salad and you have a simple and delicious meal.
And if you like crock pot recipes, be sure to check back every Monday for my new crock pot series.
If you subscribe to both my main site and my allergy section and received this recipe twice, I am sorry. We are updating the feeds to offer more options and this one went out twice.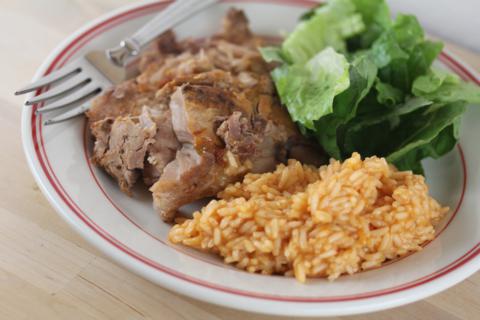 Crock Pot Mexican Pork Chops
1 onion chopped
4-6 pork chops
1 cup salsa
½ teaspoon cumin
Heat oil in a large skillet cook  and add onion. Cook onion in oil until tender.
Add pork chops and brown chops on each side for about 2 minutes a side. You are just browning here, not cooking completely. You may have to do this in batches depending on the size of your pan. Add more oil if needed. ( You can skip the browning here, but I think the extra step is worth it and makes for a better flavor and texture)
Place onion/pork chop mixture into crock pot.
Combine salsa and cumin and pour over browned pork chops.
Cook on low for 6-7 hours or until done. ( The cooking time will vary depending on the thickness of your chops.)