Today is crock pot recipe day and I am excited to share with you another easy and delicious crock pot recipe with you. Today's recipe is the fourteenth recipe in my Crock Pot Favorites series. I can't believe I have shared fourteen new crock pot recipes so far this year. This year is going by really fast.
Now I only have thirty, or more if I post one every week, crock pot recipes to go! Thirty recipes might sound like a lot, but I am looking forward to making and sharing some crock pot deliciousness over the next few months.
Now for today's recipe. Today's recipe is all about mac and cheese, because who does not love mac and cheese.
I had a slow cooker mac and cheese recipe that I used for years. It was easy to make and we loved it. I shared it back in the early days of this site, which was also the days where I occasionally posted a recipe without a picture. Blogging has changed over the last few years and so has my cooking.
That recipe called for a can of soup. For various reasons, including our food allergies and issues, I no longer use much canned soup. So, I knew it was a recipe that I needed to adapt and come up with a new version we loved.
It really did not take a lot of tweaking, except to remove the canned soup. I was actually surprised how well it turned out without the soup. The version with the soup may be a bit creamier, but besides that it worked great.
I also left out the eggs. The first time I made it, I left the eggs out because I simply forgot them. Anyone else occasionally leave things out of recipes? Yep, I do that too. Leaving the eggs out in this recipe though was a good thing, because I realized that we liked it without the eggs.
With minor tweaking I had a new crock pot macaroni and cheese my family loved and could all enjoy.
Slow cooker macaroni and cheese is one of those recipe that does not need cooked all day. This is not a throw it in the crock pot and cook all day type of recipe. This is more like a cook on low for 3-4 hours type meals. And even that may vary if your crock pot cooks hot.
I am sure that you noticed that in one picture I used macaroni noodles and in the others I used spiral type noodles. And I also used two different crock pots. That is because the pictures were taken on two different days and I just use what I have on hand. I also like to use the shell kind of pasta too. So, use whatever you like for the pasta. Pretty much any shape will work here.
And I also noticed that I have this recipe titled three different things through this post. I guess that is because of the whole crock pot versus slow cooker debate. Is it crock pot macaroni and cheese, slow cooker macaroni and cheese, or slow cooked macaroni and cheese? Since I obviously can't make up my mind, I will let you decide on that. Hopefully, you can make that decision better than I can.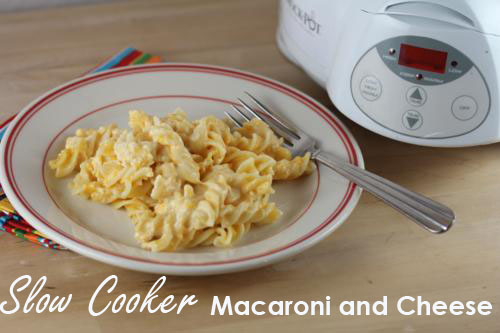 Yield: 8 servings
Slow Cooked Macaroni and Cheese
Slow cooked macaroni and cheese is a simple side dish or main dish.
Total Time
4 hours
20 minutes
Ingredients
1- 16 ounce package elbow macaroni, shells, or twists or for gluten free version us gluten free pasta
1/2 cup butter, melted
1- 12 ounce can evaporated milk
1 cup milk
4 cups shredded cheddar or colby jack cheese
Instructions
Cook macaroni according to package directions and drain.
Combine remaining ingredients with cooked pasta and stir well.
Place in a greased slow cooker.
Cook on low 3-4 hours.
Serve and enjoy!
Notes
For gluten-free version use gluten-free pasta and make sure that you read labels to make sure your ingredients are gluten-free.
Nutrition Information:
Yield:
8
Serving Size:
1
Amount Per Serving:
Calories:

555
Total Fat:

36g
Saturated Fat:

21g
Trans Fat:

1g
Unsaturated Fat:

12g
Cholesterol:

106mg
Sodium:

548mg
Carbohydrates:

35g
Fiber:

2g
Sugar:

5g
Protein:

23g
Nutritional values are approximate and aren't always accurate.