Homemade Baked Jo Jo potatoes are easy to make and taste great!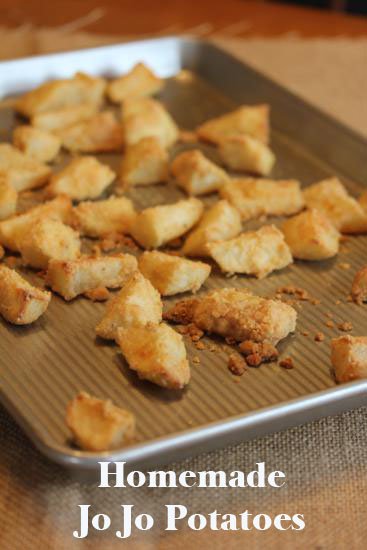 Jo Jo Potatoes are one of the those foods that brings back childhood memories for me. Or not so much childhood, but teenage living in a small town type memories.
I grew up in a very small town, kind of in the middle of nowhere, okay really in the middle of nowhere, in far northwest Oregon. It was, and still is, a small logging town with one small grocery store, one gas station, and no stop lights.
There were some downsides to living that lifestyle, like the nearest mall, shopping, and doctors offices, were all almost an hour away, but there were also some very good things about growing up like that and I would not change it for anything. There is something special about living where everyone knows everyone.
On the main street of town is a gas station/convenience store that used to sell a few deli type foods, pizza pockets, (anyone remember those), and a few other things. They may still sell those things, but it has been years since I stepped foot in that gas station store.
Being as this store was right across from the school it was a common spot for lunch, after school, and game night snacks. In other words local school kids loved to go there because there is only so many places to go in a small town.
Besides pizza pockets and a few other foods that teenagers love, they sold Jo Jo Potatoes. If you have never had or heard of Jo Jo Potatoes they are large potato wedges, that are coated and seasoned, and usually deep fried.
Totally unhealthy, but totally delicious and I ate way too many of them during my teen years.
Being as I don't live in that same small town in Oregon and most people in Oklahoma have no clue what Jo Jo Potatoes are, I have had to come up with my own homemade version of Jo Jo Potatoes.
Many recipes that I have seen for Jo Jo Potatoes contain bread crumbs, but bread crumbs don't give the potatoes quite the same texture that I remember. Bread crumbs give it a rough texture and I was looking for something more like the ones I grew up eating that had a smoother texture.
The ones I remember had a flour like crispy coating. This might vary by region or store, but I was out to recreate the ones from my childhood and knew breadcrumbs were not it. I was pretty sure that simply seasoned flour was more what I was looking for.
Jo Jo's are also usually deep fried, but since I no longer have the metabolism of a 15 year old, I was looking to save calories and fat and thought I could get a similar result by baking.
Most Jo Jo's that I have eaten also contain the peel, which does give them a more rustic and crispier edge. The day I took the photos though I was using potatoes that had seen better days, so I peeled them and I have not had time to retake all the photos.
Feel free to leave the peels on or take them off, whatever you prefer works here. I also prefer them to be more like wedges, but again the potatoes I used when I made these last had seen better days and I ended up with chunks once I cut out the bad spots. They still tasted great though.
If you have never had Jo Jo's you really need to give them a try. Jo Jo's are perfect with hamburgers, hot dogs, and many other things. And they make a great snack as well, especially if you are a teenager.
Now I am curious how many of you have had or heard of Jo Jo Potatoes?
Yield: 8 servings
Homemade Baked Jo Jo Potatoes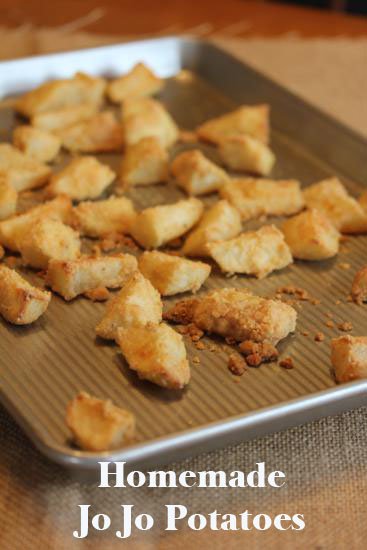 You can have Jo Jo's at home with this homemade baked Jo Jo potato recipe.
Ingredients
1/4 cup oil
1/4 cup flour (a gf flour blend works too)
1/4 cup Parmesan cheese (The stuff from the green can gives you the best texture)
3/4 teaspoon garlic powder
3/4 teaspoon salt
1/4 teaspoon ground pepper
1/4 teaspoon red pepper
3 pounds potatoes, peeled and cut into strips or wedges
Instructions
In a bowl combine potatoes and oil.
In a separate bowl or zip top bag combine flour, cheese, and seasonings. Toss potatoes in mixture to coat well.
Spread potatoes onto cookie sheet or shallow pan.
Bake at 400 for 45-50 minutes or until potatoes are tender and browned. The time will vary depending on the size of your potato wedges.
Nutrition Information:
Yield:
8
Serving Size:
1
Amount Per Serving:
Calories:

249
Total Fat:

8g
Saturated Fat:

1g
Trans Fat:

0g
Unsaturated Fat:

7g
Cholesterol:

3mg
Sodium:

272mg
Carbohydrates:

40g
Fiber:

4g
Sugar:

2g
Protein:

6g
Nutritional values are approxomite and aren't always accurate.