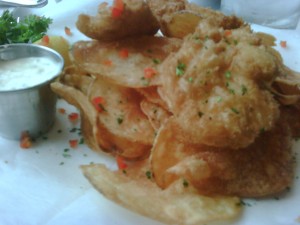 Anyone that is gluten free, or has other food allergies, knows how hard it is to eat out. Most of the time it is not worth the risk.
Yes, many restaurants say that they have gluten free or even nut free options, but we all know that there is a high risk of contamination. I have found that the stress and risk of eating out is often just not worth it.
However, I recently found a place that I am very comfortable eating gluten free at. My in laws gave my husband and I a gift card to a local restaurant for our anniversary earlier this month.
The gift card was to a restaurant where the owner/chef is celiac. He understands gluten free eating. He knows what the risk is. The staff at the restaurant are very knowledgeable and they understand gluten free eating.
Most of the menu is gluten free, but this is not normal gluten free food, this is regular food that happens to be gluten free. The food tastes so good that you would never know that you were eating gluten free.
I have made some pretty good gluten free food over the last year, but this was by far the best meal that I have had since being gluten free.
The above picture is of the fish and chips that I had. Yes, gluten free fish and chips. They were some of the best fish and chips I have ever had. I love fish and chips, so this was a special treat for me.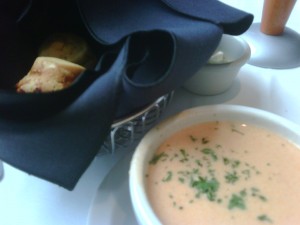 The soup and muffin/biscuit was also gluten free.
Not only was my gluten free meal very good, my husband really enjoyed his food too.
Now this restaurant was a little higher end than we normally go to. This is not a place we would probably take our whole family to, but it was a perfect place for my husband and I to enjoy a really nice meal without worrying that I would get sick from what I was eating.
I am so happy that we have found a place where we feel comfortable eating out. Does anyone else have a place like this?
And yes you know you are a food blogger when you take pictures of your meal at a restaurant.
If you happen to live in NE OK and would like to know the name of the restaurant email me for details.