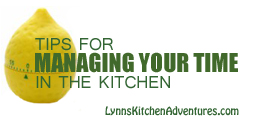 Menu planning is something that we often hear about doing to save money. Many people plan their menu around sales and coupons.
I agree that menu planning saves money and the main reason I started menu planning years ago was to save money. However, I now menu plan mainly because it saves me time.
Why does it save me time?
If I have a plan done ahead of time, I don't panic at 5:00 looking around the kitchen, opening every cupboard to see what I can throw together for dinner.
If I have a plan I know what we are having and I can get right to work on cooking dinner. The time it takes to sit down once a week or several times a month to put together a plan, pays off in the end.
Not only does menu planning save time it allows us to eat healthier without putting much thought into it.
If I plan meals ahead of time I tend to make them more balanced. If I don't have a plan, I find all to often that the fruits and vegetables get left out. I either forget to buy them or I forget to use them. It is much easier to plan out what fruits and vegetables we are going to eat during the week.
Next week I will post more details about how I menu plan and I will offer some tips on making your plan work for you.
Now I am curious, how many of you menu plan? And if you plan, why do you do it?