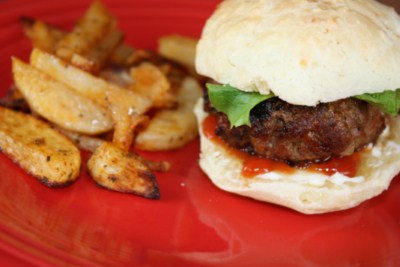 Okay, so these are not "Emeril's" hamburgers, but they are hamburgers using Emeril's homemade Baby Bam seasoning and they are so good.
I recently posted about how much I love Emeril's Homemade Baby Bam Seasoning. It is so easy to make at home. I use it all the time.
I love it for my oven fries, and for several other things. One of my favorite ways to use it recently has been in hamburgers.
I simply take 1 pound of ground beef and add about 1 tablespoon of the seasoning mix. You can add more or less depending on how much seasoning you like.
I also mix in about ½ cup of cheese to the meat. Then form into patties and grill or fry your hamburgers.
You now have Emeril's seasoned cheeseburgers, or at least my version of them.
I also like to occasionally serve mini versions of these, like the one pictured above. It makes regular hamburgers a little different and fun. My kids love the mini versions.
The one pictured above is served on a gluten free roll that I made. But for those of you that eat regular bread, my 40 minute rolls, or regular hamburger buns would work great.
Enjoy!
This post linked to Tempt My Tummy Tuesday.