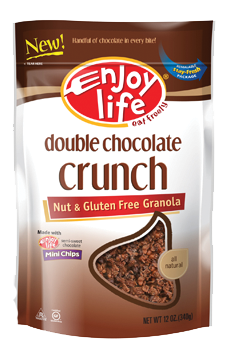 Life with food allergies is difficult. You can no longer just grab an item like cereal or candy from a store shelf and eat it. You have to read labels. And not just read labels, you have to make sure there are no cross contamination issues. Food and grocery shopping is just not the same.
This is why I love companies like Enjoy Life. They take food allergies seriously and keep their products free of the top eight allergens.
We almost always keep a box or two of their granola bars on hand for trips or times where we need a quick snack. They are one of the only granola bars that are safe for everyone in our family to eat.
Enjoy life recently sent me some of their Chocolate Crunch Granola and their Mega Chocolate Chunks to try. And we loved them.
I made my gluten free pumpkin bars using the Mega Chocolate Chunks and they were so good. It was nice to use a chocolate that was truly safe and nut free. And the chocolate had a really good chocolate taste.
My girls also loved the chocolate granola. I mean who would not love chocolate for breakfast. I really enjoyed it, although it is not quite like granola. Since it is not made of oats, it has a little different texture, but is really good.
I think the granola would be really good to take on vacation. It is something you could easily use as a cereal with milk or just as a snack on it's own dry.
If you have tried Enjoy Life products before, what is your favorite item that they make?
Disclaimer: I was sent some granola and chocolate chunks to try, but my thoughts and opinions are my own.