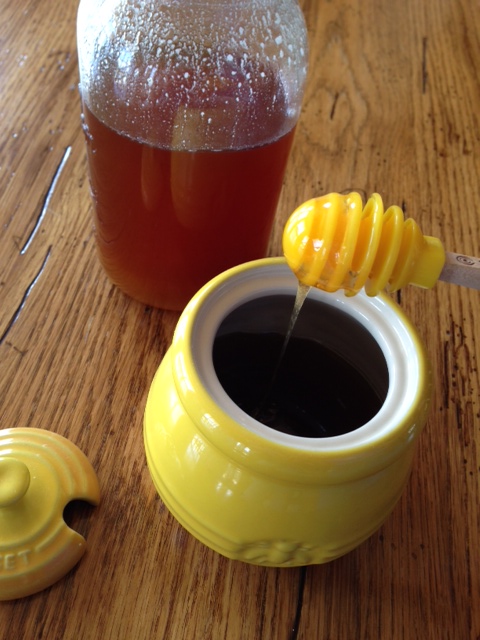 I posted a link on Facebook the other day for my post on how to decrystalize honey. If you are not following my page on Facebook be sure to like it. I share links, kitchen tips, things I am doing, and other random things.
And if you have a jar of rock hard honey sitting around your kitchen, be sure to read my post on how to decrysalize honey.
When I shared the tip on Facebook a reader asked what I used to store my honey for everyday use. I decided to take a quick picture to share today for my Everyday Adventures post in case others were interested too.
I buy honey by the gallon and store the majority of it in jars, but I also keep a small honey pot on the counter for everyday use. It works great for using on toast, biscuits, and in drinks. For years I used a plastic honey bear, but right now I am liking the honey pot better. There are all kinds of honey bears and pots out there, but I love the bright yellow stoneware one I have.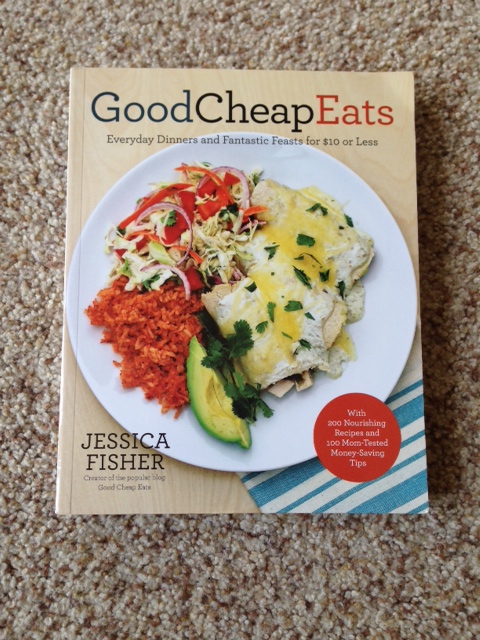 I love fun mail days!
My friend Jessica has a new cookbook, Good Cheap Eats: Everyday Dinners and Fantastic Feasts, coming out in September. I received a copy this week to review and I already have a few recipes marked to try. So far I love the book and will be sharing more about it soon for my Cooking Through My Collection series.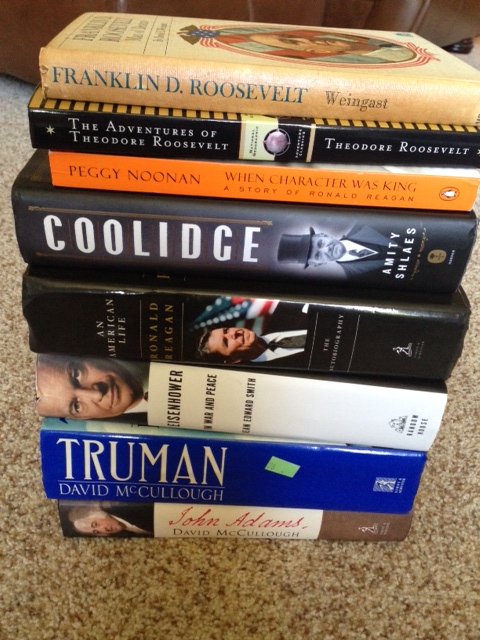 And since we are talking books, I thought I would show you a picture of the most recent stack of books at our house.
My 14 year old loves history, especially presidential history. She knows all kinds of odd presidential facts and loves quizzing people about them. She recently challenged herself to read one biography or autobiography on each president. She is in 9th grade and is hoping to complete it before she graduates from high school. She is an avid reader, so I think she might actually be able to accomplish it. That is if we can find a book on each president. We still haven't figured that part out yet.
My oldest daughter, who also loves to read, decided she would try to do the same. Her goal is a little different in the fact that she wants to read them in order. She thought it made more sense to read them in chronological order. Now I just need to keep up with finding the books for them.
So there is a lot of presidential history going on at our house right now. They plan to get many of the books from the library, but the library is not always convenient for us to get to. And as my girls have researched books to read they are realizing that many of the book are well over 500 pages long. Not exactly quick reading. So I have been picking up a few here and there used because it will be more convenient for us to own some of them. So far we have a decent stack for our collection.
And because we all know I need more books in my stack (said in a very sarcastic voice), I have decided that I need to read a few of them too. I think I am going to start with one of the President Reagan books. I doubt I will read every book they are going to read, but I think it will be fun to read some of them.
If you love history and have read any good book about the presidents, please leave a comment about it. My girls would love some recommendations on what books to read. Or not read.
And if anyone is interested in what they are reading let me know and we can try to do a page similar to the books I have read page I have.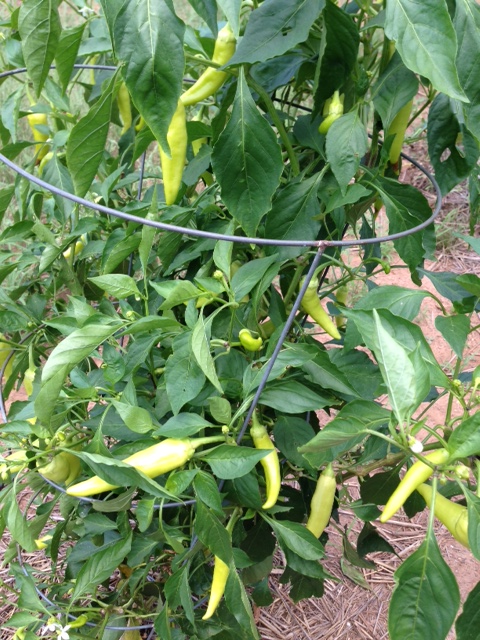 I took this picture of my pepper plant yesterday. And I have several more that look about the same. Our pepper plants are doing really well right now. I think I will be making more pickled peppers this weekend to use some of them up.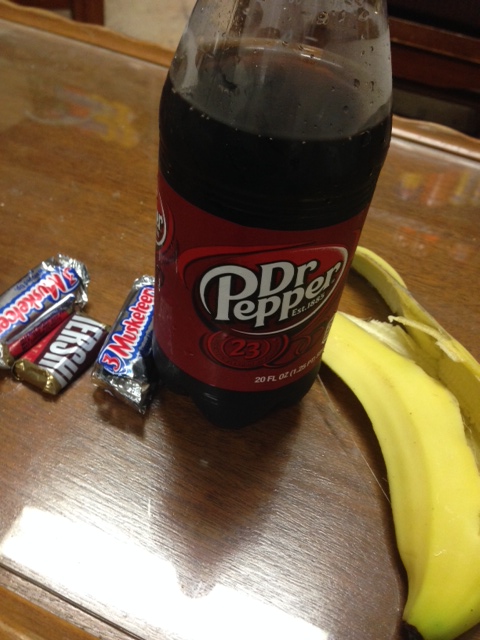 And now I have a keeping it real picture for you.
I often go to my husband's office while my kids are at piano lessons. I take my laptop and sit upstairs in the supply closet area. I know that does not sound like a fun place to sit, but I love going up there because I can get so much work done. It is quiet and I can work without distractions. Plus it is the closest and easiest place to go with free WiFi.
This last week I left for piano lessons without eating. Not a smart idea. The above picture may just have been my breakfast and lunch for the day. Did I really just admit that I had a Dr. Pepper and candy bar for breakfast/lunch for the day……… At least I had a banana. 🙂
Yes, I know it was totally unhealthy and I really need to eat better, but it was so good and it made the work I had to do a little better.
Plus I know you all like keeping it real posts. And that picture, admitting that was breakfast and lunch for the day, is about as keeping it real as it gets. 🙂
I hope you all have a great holiday weekend!