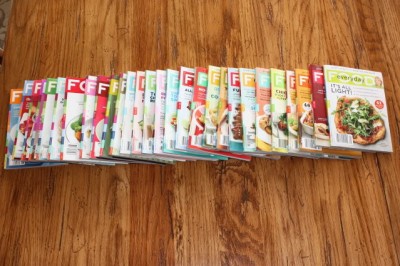 I love cookbooks and cooking magazines. I enjoy finding recipes online, but there is something about cookbooks and cooking magazines that I enjoy more. I can spend hours looking at them.
Several years ago I subscribed to Martha Stewart Everyday Food. I guess it was more than a few years ago because it was when the magazine first came out in 2003. I subscribed for two years and then quit getting it. I found at the time that I did not use it much. My cooking was quite a bit different then.
Over the last few years my cooking has changed a lot as I have tried to cook healthier and use less packaged foods. I am using more real food now. So, last year when I was able to get an Everyday Food subscription for a really good price, I decided to give it a try again.
Now I am wondering why I ever stopped subscribing. I have found so many recipes in it. It is becoming one of my favorite food magazines. I have been enjoying it so much that I wished I had some of the years that I did not subscribe to it.
I decided to watch Ebay to see if anyone would list some of the past issues. I was very happy to find that someone had listed a set of 28 issues and for a good price. I was the only person bidding and I won all the issues in the picture above. Only two of the issues were ones I already. I am so happy to add to my collection. Now I have a lot more recipes to try and share with you.
I really wish they would put together an annual cookbook for this magazine, like so many other food magazines do, but for now I will enjoy my magazine collection of Everyday Food.
Do you have a favorite cooking magazine? If so what is it?