My sister Evie, who is a great cook, but doesn't have a blog, recently told me about some new recipes she had made. They sounded great and like the good blogging sister that I am, I told her she should take pictures and share what she did with my readers. A few weeks later recipes and pictures arrived in my inbox. Today, I am sharing the first of those recipes. Thanks Evie!

If you have lots of zucchini coming from your garden right now, this is a perfect way to use it up. And I love the zucchini in it because it will keep the chicken very moist.
The last couple of months I felt that I have been stuck in a rut cooking the same few chicken recipes over and over again. I decided to look for a few new recipes to try. We ate some 'okay' meals, but I also found a couple great new ones.
When I first came across this original recipe, I admit I was a bit skeptical to try it. I was afraid that the zucchini would be too bland in the filling. As it turns out, I was very wrong about that. The zucchini added a ton of moisture, so the chicken breasts didn't dry out and it was a nice compliment to the cheese and chicken. I decided to brush seasoning over the chicken, too, which added great flavor.
Although this recipe has several steps, it was fairly simple to prepare. It also looks a bit fancier than regular whole chicken breasts! Overall, we thoroughly enjoyed this recipe and I'm sure I'll be making it more frequently now that we starting to harvest our own zucchini. I've learned I can never have too many good zucchini recipes.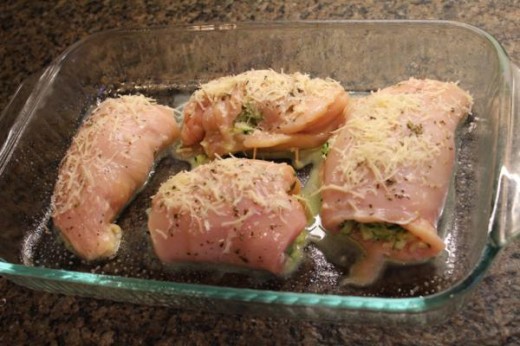 Yield: 4 servings
Evie's Zucchini Stuffed Chicken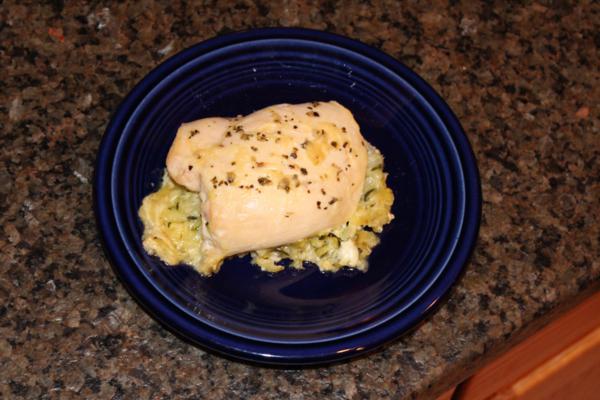 My sisters zucchini stuffed chicken is a great meal for summer.
Ingredients
4 chicken breasts or 8 chicken cutlets
2 tsp olive oil
3 cloves garlic, minced
1 1/2 c zucchini, shredded (1 medium)
1 tsp salt
1/2 tsp pepper
1/4 c + 2 TB parmesan, grated & divided
1 c mozzarella, shredded (I used part skim)
1 lemon, juiced (about 2 TB)
1 TB olive oil
1 tsp Italian seasoning
Instructions
Preheat oven to 375. Spray a 9x13 pan with cooking spray.
In a skillet, heat 2 teaspoons olive oil. Add garlic and sauté until golden brown, about 1 minute. Add zucchini, salt, and pepper. Sauté until zucchini just begins to soften, about 3 minutes. Remove from heat and add 1/4 parmesan. Cool to room temperature. Add mozzarella.
Using the smooth edge of a meat mallet, pound chicken to about 1/4 inch thick. Try to get them as even as possible. Pat dry with paper towels.
Lay pounded chicken breasts out. Spread each with about 1/2 cup zucchini filling (1/4 cup each if using 8 cutlets). Loosely roll up and place seam side down in baking dish. If you have problems getting these to stay rolled up, skewer the seam edge with toothpicks.
In a small bowl, combine lemon juice, 1 TB olive oil, and Italian seasoning. Brush over rolled chicken. Sprinkle with remaining 2 TB parmesan.
Bake for 40-45 minutes (30-35 for cutlets), until chicken is cooked through.
Notes
If you are gluten-free be sure to read labels to make sure that your ingredients are gluten-free.
Nutrition Information:
Yield:
4
Serving Size:
1
Amount Per Serving:
Calories:

885
Total Fat:

32g
Saturated Fat:

9g
Trans Fat:

0g
Unsaturated Fat:

20g
Cholesterol:

413mg
Sodium:

1249mg
Carbohydrates:

38g
Fiber:

3g
Sugar:

4g
Protein:

105g
Nutritional values are approximate and aren't always accurate.