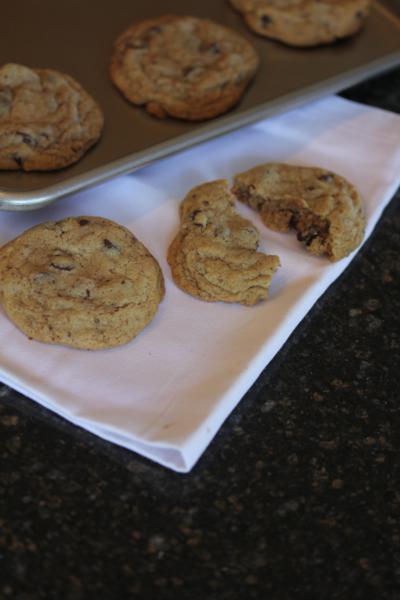 Cookies are one of my favorite things to make and it has been awhile since I shared a gluten free cookie recipe with you. Today I am fixing that with a delicious gluten free chocolate chip cookies.
This gluten free chocolate chip cookie recipe is adapted from an old recipe that I used to make called ultimate chocolate chip cookie, which is why I am calling this ultimate gluten free chocolate chip cookie.
And really this cookie is good. Really good. Not sure it is the ultimate I will never make a different recipe type of cookie, but it is really good. It is a cookie that no one will know is gluten free and that is always a good thing.
These are soft and chewy and delicious!
Tomorrow I will share one of my favorite ways to eat these cookies. It is really good and perfect for summer, so stay tuned for that.
Ultimate Gluten Free Chocolate Chip Cookie
3/4 cup butter, softened

3/4 cup sugar

3/4 cup brown sugar

2 eggs

1 1/2 teaspoon vanilla

1 1/4 cups white rice flour

1/2 cup plus 2 tablespoons sweet rice flour

1/4 cup cornstarch

1/2 teaspoon xanthan gum

1 teaspoon baking soda

3/4 teaspoon salt

2 cups semisweet chocolate chips
In a bowl beat butter and sugars together until creamy.

Add in eggs and vanilla and beat until blended in.

In a small bowl combine rice flour, sweet rice flour, cornstarch, xanthan gum, baking soda, and salt. Gradually add dry mixture to butter mixture until combined.

Stir in chocolate chips.

Drop by spoonfuls onto greased baking sheets.

Bake at 350 for 8-10 minutes.

Let cool on cookie sheet for several minutes then remove to wire rack to cool.