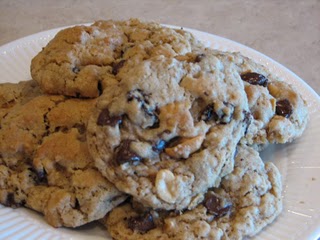 In my quest to cook healthier I decided to try the Trail Mix Cookies that Fish Mama posted today. I was wanting to make something for dessert tonight but did not know what. When I saw these on her blog this afternoon I decided to give them a try.
Now, they are still not super healthy. They are still a cookie, but they have quite a bit of whole wheat in them and also 2 cups of oatmeal. So, I thought it was a good start to a healthier cookie. I did not have trail mix so I used some nuts and raisins instead. I also used about 1/2 cup of chocolate chips. I may try it next time using 1/2 butter and 1/2 oil.
I will definitely be making these again. My whole family thought they were very good. No one could even tell they had whole wheat in them.
Thank you Fish Mama for sharing.