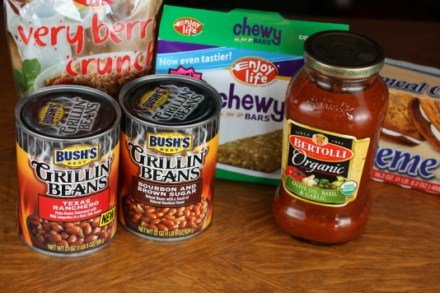 Over the last few months I have received quite a few questions and comments about what my family eats related to our food allergies and why I use certain things and brands in recipes. Instead of continuing to try to answer these emails one by one, I decided it was time to address the issue here on my site. If you have questions regarding our food allergies and how we deal with them, I hope this post helps.
My family deals with food issues. I eat gluten free and my two girls also now eat gluten free. My oldest daughter also deals with a tree nut, peanut, and sesame allergy. These issues have made from some big changes in my kitchen over the last few years.
But the fact is our house is not totally gluten free. My husband and son still love and eat gluten filled food. We now have a cupboard in our house that we call the gluten filled cupboard and it is full of food that my daughters and I never eat.
It contains cereal, bread, packaged cookies, crackers, Little Debbie snacks, and more. My husband and son know that when the items from that cupboard are brought out they have to be more careful. They have to watch where they eat it and they have to totally clean up after themselves.
I know our way of handling this issue is not the way that many of you handle it. Many of you have made the choice to have a totally gluten free kitchen and house and that works for you, but this is what works for us. My son and husband make so many sacrifices because my daughters and I deal with food issues, that this is our way of making sure they have a few treats that they can enjoy.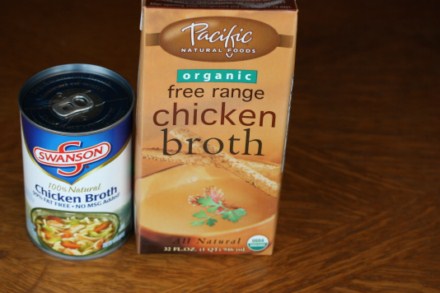 We do take precautions and do things like having two toasters. One for gluten free bread and one for regular bread. We have two butters, two mayonnaise jars, etc. to avoid cross contamination issues. Again, I know that this is not how everyone handles it, but it works for us.
I do also make special food for them, it has been a long time since I cooked anything with regular flour because it tends to get everywhere and make a big mess and it is just not worth it to me, but I do occasionally cook something just for my son and husband, that the girls and I never eat. I also occasionally send food to my husband's office that we do not eat.
One of the reasons this works for us is because my girls that deal with food issues are twelve and fourteen. They know what do to and can read labels. They know to not eat that piece of bread. They know if they see crumbs in the kitchen they have to be carefully cleaned up. They also eat gluten free because they feel better if they eat gluten free, no doctor has ever told them to eat that way. (And we handle my daughter's nut allergy more cautiously because of the type of allergy it is, than we do gluten.)
If my children with food issues were two and four, I would probably handle this much differently because they would not understand to the level they are now able to. I would probably keep way less gluten in the house if they were too young to understand it all.
If it is an item that my girls and I are eating, I research that prodcut or brand the best I can to see if I feel it is safe. The internet world has made researching things so much easier, but I know that many of you may disagree with me on the safety of some products and that is fine. I understand that sometimes we may come to different conclusions based on our individual research.
I say all this to say that just because you see a certain brand or ingredient in a picture on my site, it does not mean that I eat it. It does not mean that my girls eat it. My main site is not totally gluten free, because my house is not totally gluten free. I have my allergy section for my gluten free baked goods, life with allergies type recipes and posts, etc, but here on my main site there is no guarantee what I cook or show a picture of will be gluten free or safe for you to eat.
There is a good chance that it is, but there is no guarantee, so I encourage you to read labels and do the research yourself on anything that you have a question on. If you deal with food issues you need to do what you feel is best for your family, your situation, and what is recommended by your doctor.
The choices I make when it comes to feeding my family may not be the same choices that you make, but we are each responsible to do the best we can with the knowledge we have.
My hope is that those of us dealing with food allergies can respect the choices each family makes knowing that we are each doing what we feel is best for our family and situation.