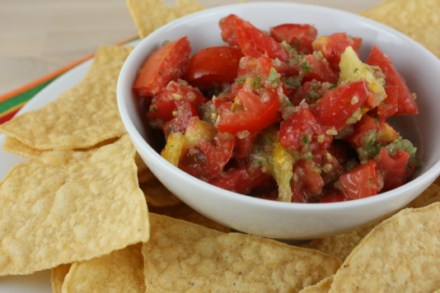 This time of year is the perfect time to use fresh tomatoes. Fresh from the garden tomatoes are one of my family's favorite summertime food.
Right now tomatoes are in peak season in most parts of the country. Even if you do not grow your own tomatoes, you can easily find them at the farmers market or grocery store.
Fresh salsa/pico de gallo is a great way to use tomatoes.
This recipe is based on one that came from my aunt and we always called it fresh salsa. It is basically a pico de gallo. I have compared a lot of recipes and I really do not think there is any difference between fresh salsa and pico de gallo. I think it just depends on what part of the country you live in.
Do you call it pico de gallo or fresh salsa?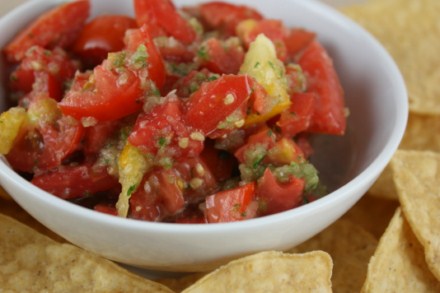 Fresh Tomato Salsa
3-4 tomatoes, chopped ( I used a mixed of red and yellow ones from our garden)
1  onion, chopped
2 cloves garlic, minced
Few sprigs cilantro, chopped
1 green pepper, chopped
1/2 jalapeno, chopped (more if you like it spicy)
1 Tablespoon lime juice
¼ teaspoon salt
Mix ingredients together and serve with chips. We do not like our salsa very chunky, so I chop the onion, garlic, cilantro, and peppers in the food processor. Then I chop the tomatoes by hand and mix in the other ingredients.