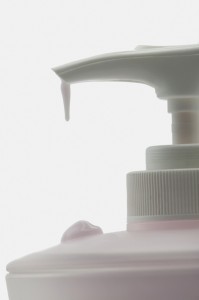 I have several recipes that I hope to post over the next week, but today I wanted to talk about something that I have been thinking a lot about.
I have always had sensitive skin. One of the things I remember buying with the money I earned baby sitting as a teenager was hair care products. The inexpensive, on sale versions that my mom always bought irritated my scalp and left my hair and skin nasty.
I quickly learned that there was something to what is in hair and skin care products and it was worth spending money to find a product that I could use.
I knew there was a difference in skin care products, but I never thought why one would bother me and one would not until recently.
My daughter's nut allergy has given me a whole new view of what goes into our skin care products. Not only do I have to read food labels, I have to read skin care labels. If you have a nut allergy, I am sure that you are already aware of this.
Around the time that my daughter was first diagnosed with her nut allergy, she started breaking out in a rashes and hives. I could not figure out what it was, but I knew it had to be something. I started reading labels on the skin care products that she was using thinking that it must be something in them that was irritating her.
What I found was that many of the skin care products that we were using contained nut oils. Almond and sesame oil were the most common and both are things that she is allergic to.
I started realizing that not only would I have to rid our kitchen of the nuts, but I had a lot of other products that we could no longer use. From soaps, to lotions, to hair care products our bathroom cupboards also got a makeover.
As I started paying attention to the labels on skin care products, I began to realize that not only do many of them contain nut based oils many of them also contain wheat or oats. This made me step back and wonder if this has anything to do with my years of sensitive skin issues. Maybe it is not just sensitive skin causing my problem, maybe their is more to it than that.
I am still trying to figure out if wheat based products may contribute to my skin issues. I have read mixed opinions on the subject, so I am still reading and trying things. However, what is has made me do is step back and not only pay attention to what my family puts into their mouths, but what we put on our skin.
Food allergies and issues open up a whole new world don't they?
What are your thoughts on food allergies and skin care products? I would love to know what some of your experiences have been.