This is not a recipe for food, but a recipe to deal with something I think we have all had a problem with at one time or another, fruit flies/gnats.
Aren't they awful? I can't stand them and the last couple of weeks I have had a bad case of them. I could not figure out where they were coming from and they were driving me crazy. So, I did a quick internet search on how to get rid of them. One of the tips had you use a pop bottle. We rarely drink pop, we don't keep it in the house, therefore we had not have pop bottles.
But one of the other ideas sounded like an easy and frugal trick, but would it work? I was desperate, so I gave it a try.
Here is what I did.
Take a bowl and put some apple cider vinegar in it, I used about 1 cup of vinegar. Add a few drops of dishwashing soap and stir around. Cover with plastic wrap. Poke holes in the plastic wrap with a fork. I poked the fork through about 4 times. You want the hole big enough for the fruit flies to get through, but you do not want them too big.
Sit the bowl near where you are having problems with the fruit flies. I set mine on the kitchen counter. After about 4 hours this is what I found.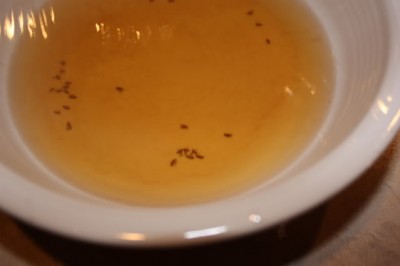 It worked. The cider vinegar attracts them and they die in the liquid. This is so easy and it really did help get rid of my problem. I am going to remember this trick.
For more kitchen tips see Tammy's Recipes.