This is not a recipe exactly. This is more of a brief explanation of a meal my family enjoys for breakfast, lunch, or even for dinner, on days like today.
We really are having these for dinner tonight. I am really behind on housework after being sick last week and I still have two sick kids. Today I had about 5 loads of laundry to do, floors to clean, clutter to pick up, etc. I needed to focus on that. I did not want to spend a lot of time on dinner, but I wanted to make something really easy and filling for my family.
Sandwiches make quick and easy dinners. Plus, they are usually a frugal meal. However, my husband does not like to eat regular sandwiches for dinner. He eats them quite a bit for lunch and does not enjoy having them for dinner. He does not mind eating a breakfast sandwich like this though. This is a hot and filling sandwich and it is something that we do not have often. This is much better than your average sandwich.
It is quick, easy, and really good. Most breakfast sandwiches use a biscuit as the base.We like this breakfast sandwich because it is a little different in that it uses a bagel as the base.
Here is what I do.
I place bagels on a cookie sheet and place ham on one 1/2 of the bagel. I then place cheese on top of the ham.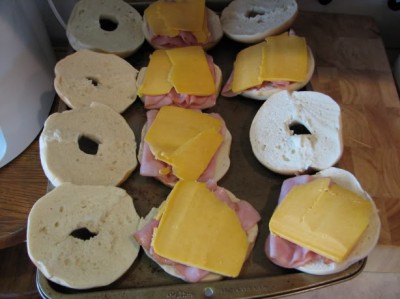 I place under the broiler in the oven until the bagels are toasted and the cheese is melted.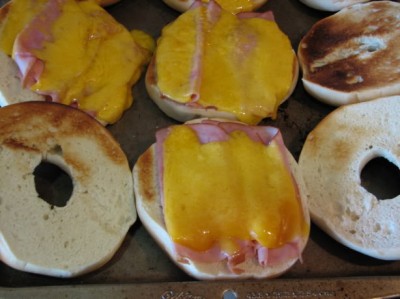 I fry up some eggs and cook them until the yolks are hard. You don't want the yolk running all over you when you eat this.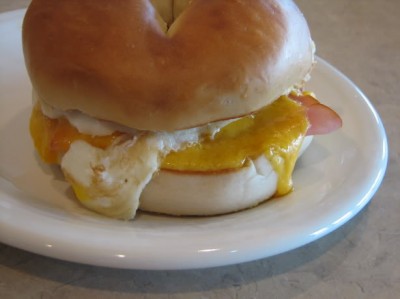 I place the egg on top of the melted cheese and place the top on the bagel. Some in my family like to put mustard on their sandwich, but I enjoy it just like this.
For more frugal meals see $5 Dinners.