After not one, but two gluten free failures recently, I was determined to get this week's cake recipe right. And I did eventually get this recipe right, but it was not without some disasters first.
I am still loving the Martha Stewart Cakes Cookbook, however it has been a reminder that converting to gluten free does not always work as you hope it does. It often takes tweaking and adjusting. Gluten free flours just work differently and disasters will happen.
Today's recipe was called a Carrot Tea Cake in the book. It was basically a carrot cake made into a loaf, but after three tries of trying to get the loaf to work gluten free, I decided cupcakes would work better.
The first time I made this as a loaf cake, it was a disaster. It was dry and crumbly. We each took a few bites and the rest ended up in the trash. It was that bad. It really was not salvageable. They taste was actually great, it was the texture and dryness that we could not get past.
I tried again to make it using different gluten free flours. And instead of butter like the recipe called for, I also changed it up and used oil. I was hoping that this would help the dryness of the recipe.
It was an improvement, and we ate it, but it was not good enough to make again or share with you all. It still needed work because it was still dry.
My mom made carrot cake quite often when I was a kid and I remembered her putting crushed pineapple in hers and it was always good.
I knew pineapple would add some moistness and some acidity to the recipe, which usually works well with gluten free flours, so I decided to give it a try for my third loaf.
It was pretty good. The flavor was great and the texture was better. Finally we were headed in the right direction. The texture though was not quite what I thought it should be. It was still a bit crumbly even though it was moist. So it was an improvement, but not quite right.
I loved the flavor though, so I knew I did not want to give up. I decided to try making the batter in a muffin pan instead of a loaf to see if that helped. And it did. It worked perfectly.
Finally they were moist and delicious. The texture was perfect and I was glad I had not given up.
I frosted these and made them into a cupcake, but you could easily leave the frosting off and they will be more like a muffin. Either way they are really good.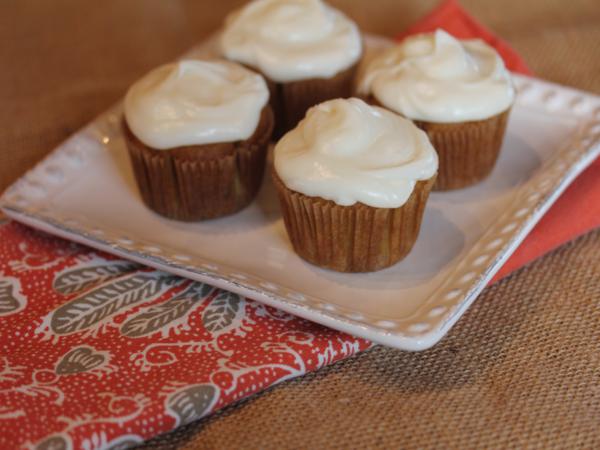 Yield: 18 cupcakes
Gluten Free Carrot Cake Cupcakes with Cream Cheese Frosting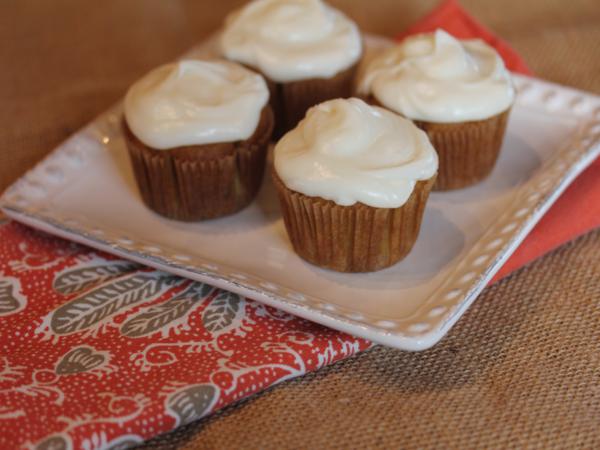 A classic carrot cake recipe made into gluten free cupcakes.
Ingredients
1/2 cup oil
3/4 cup rice flour, brown or white rice works
1/4 cup potato starch
1/4 cup cornstarch
1/2 teaspoon xanthan gum
1 teaspoon baking powder
1/2 teaspoon baking soda
1/2 salt
1/2 teaspoon cinnamon
1/2 cup brown sugar
2 eggs
1 teaspoon vanilla
1 cup grated carrots
1- 8 ounce can crushed pineapple
Frosting
2 cups powdered sugar
8 ounces cream cheese, softened to room temperature
1/2 teaspoon vanilla extract
1 - 2 tablespoons milk
Instructions
Preheat oven to 350.
Line muffin tin with paper liners or grease pan well. Set aside.
In a bowl combine rice flour, potato starch, cornstarch, baking powder, baking soda, salt, cinnamon, and xanthan gum. Set aside.
In a mixing bowl combine oil and sugar. Beat well.
Add eggs and vanilla and mix together well. Then add carrots.
Gradually add dry mixture and mix just until combined.
Add pineapple and mix just until mix in well.
Scoop into prepared muffin pan filling about 3/4 full.
Bake for 18-20 minutes or until a toothpick inserted into the center comes out clean.
Let cool on wire rack.
Frosting for cupcakes:
In a bowl beat ingredients together well, adding enough milk to get the desired consistency.
Frost cupcakes.
Nutrition Information:
Yield:
18
Serving Size:
1
Amount Per Serving:
Calories:

238
Total Fat:

11g
Saturated Fat:

3g
Trans Fat:

0g
Unsaturated Fat:

7g
Cholesterol:

34mg
Sodium:

134mg
Carbohydrates:

32g
Fiber:

1g
Sugar:

20g
Protein:

2g
Nutritional values are approximate and aren't always accurate.