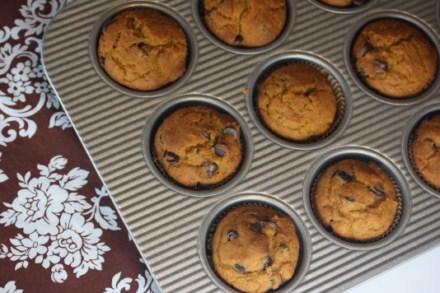 I love pumpkin. It is one of my favorite ingredients to use in my fall and winter baking. And today I am sharing Gluten Free Chocolate Chip Honey Pumpkin Muffins.
These are so good. I have made them three times over the last two weeks and my kids have loved them every time.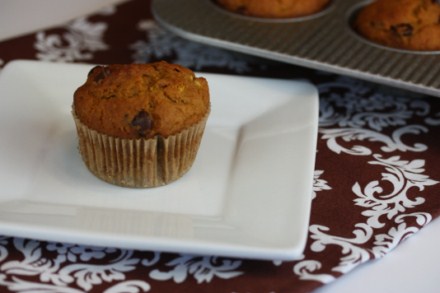 If you want these to be a little healthier, just leave the chocolate chips out, but really they are best with the chocolate chips because chocolate makes everything better. 🙂
Gluten Free Chocolate Chip Honey Pumpkin Muffins
1 1/4 cup brown rice flour
1/3 cup potato starch
1/4 cup tapioca starch
1 teaspoon baking powder
1 teaspoon baking soda
1/2 teaspoon salt
1/2 teaspoon cinnamon
2 eggs
1 cup canned pumpkin
1/2 cup oil
1/2 cup honey
1/3 cup water
1 cup chocolate chips
In a bowl combine rice flour, potato starch, tapioca starch, baking powder, baking soda, salt, and cinnamon. Set aside.
In another bowl combine eggs, pumpkin, oil, honey, and water. Mix well and then stir in dry flour mixture just until combined.
Fold in chocolate chips.
Scoop batter into muffin cups that have been lined with muffin liners.
Bake at 350 for 20-22 minutes or until done.
Makes about 15 muffins.