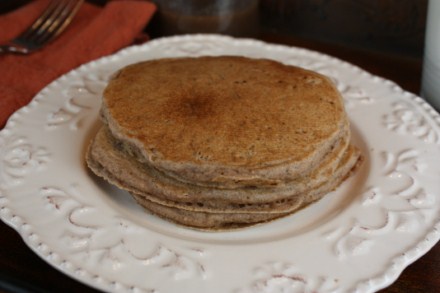 It is no secret that we love pancakes in our house. They usually make an appearance at our table at least once a week. My son would eat them everyday if I would make them that often.
Because we eat pancakes so often,  I like to come up with different versions to enjoy. I recently came up with a gluten free cinnamon pancake that we loved. These will definitely be on the menu plan again soon.
I think cinnamon pancakes would make a wonderful holiday breakfast.

Gluten Free Cinnamon Pancakes
(this makes quite a few so you might want to 1/2 it for your family)
1 cup sorghum flour
1 1/4 cup potato starch
3/4 cup tapioca starch
6 tablespoons sugar
1 teaspoon of salt
6 teaspoons of baking powder
2 teaspoons of baking soda
2 1/2 tablespoons of cinnamon (yes these are cinnamon pancakes)
4 eggs
2 1/2 cups buttermilk
1/4 cup real maple syrup
1/2 cup butter, melted
1 tablespoon vanilla
Mix together the dry ingredients in a large bowl.
In a separate bowl combine the wet ingredients.
Mix the wet and dry ingredients together just until well blended.
Cook on a hot griddle or pan.
Serve and enjoy!