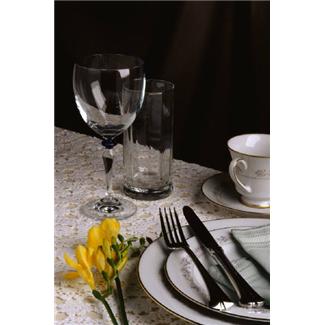 Today I would love to hear about your dishes. Yes, those plates, cups, and silverware you use while eating.
Growing up we had everyday dishes that were often a mix of several different sets.
However, for holiday dinners and special company, my mom pulled out the nice dishes and silverware. We knew it was a special meal when the nice dishes were bought out.
A few years ago when we drove to Oregon to visit my family, I brought back several boxes of those nice dishes that my family used when I was growing up to Oklahoma with me. My mom no longer needed this china because she had inherited my grandmother's set and she decided to give me the china that she had used for so many years.
I was thrilled to have it and had dreams of using it for many of my family's holiday meals. Those dreams never happened. The reality is that the china is sitting in my attic, still in the boxes that I brought it back from Oregon in.
In my current kitchen I do not have the room to store these dishes, so the attic is where they ended up. It takes way too much time and effort to pull them out each time I need them.
I still love having these dishes and I am so glad that I took the effort to haul them all the way to Oklahoma from Oregon. I love the idea of using special dishes not only for the holidays, but for other meals and some day I hope to have the space to bring out my dishes and use them regularly.
So, now I am curious, did you grow up in a family that used special dishes for Christmas and other holidays? Do you use special dishes during the holidays now with your family?
And am I the only one that has a set of china hidden away in the attic because they do not have room enough for it?