Gluten Free Dairy Free Chocolate Coconut Cake is so good that you will not know that it is gluten free and dairy free.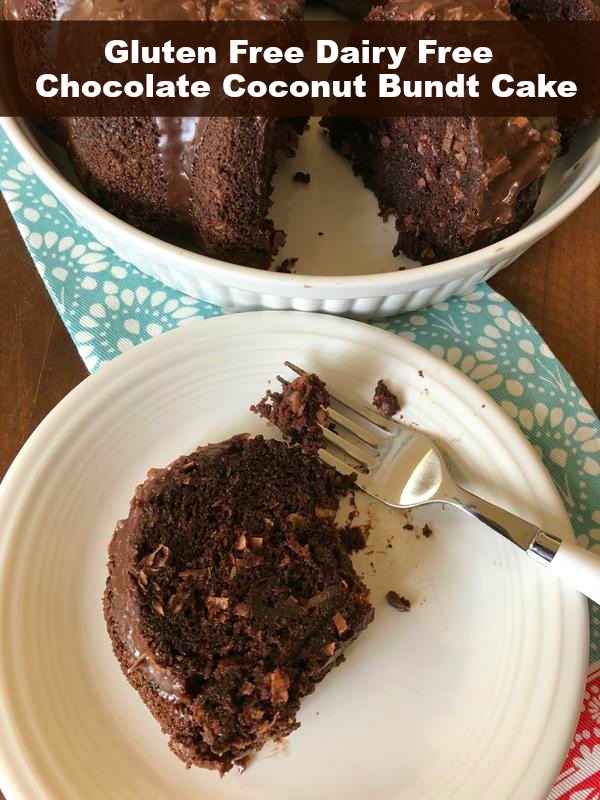 It is the holidays. Or at least it will be in a few more weeks. The holidays mean all kinds of holiday meals, family gatherings, and events. All of which usually involve food.
Because food makes up so much of the holidays and I have quite a few gluten free readers, I am going to be sharing several gluten free recipes over the next few weeks.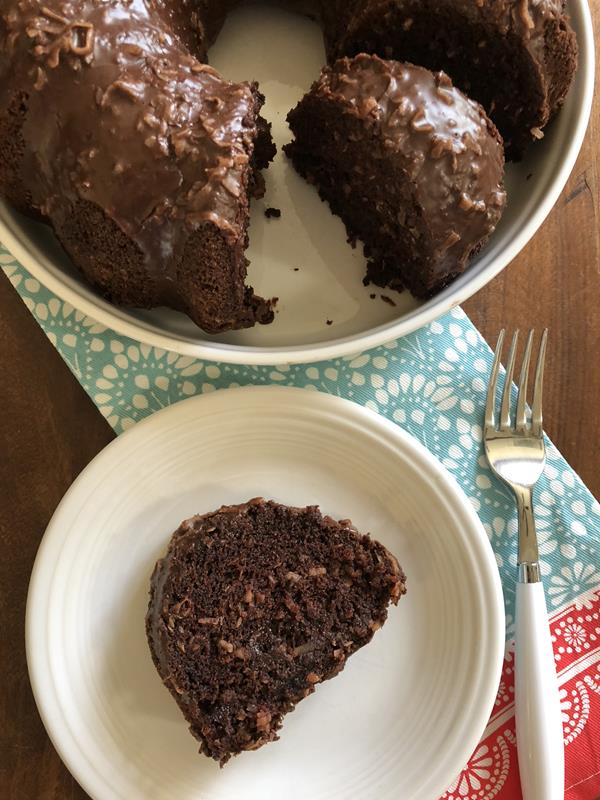 The holidays can be challenging if you are gluten free or are cooking for someone that is gluten free. I want to help make it easier for you. Gluten free eating and cooking can be easy and delicious!
Because I want to help you make the holidays easy and delicious, I will be sharing gluten free holiday recipes that are easy to make and that taste so good no one will know they are gluten free.
If you are not gluten free don't worry. This is not turning into a gluten free only site. I am just going to be sharing a few more than normal gluten free recipes over the next few weeks.
And many recipes likes today's can actually be made with regular flour. Just add up the amounts of the gluten free flours and gums and substitute regular flour.
This Gluten Free Dairy Free Chocolate Coconut Cake is based on one of my all time favorite gluten free cakes. It has a secret ingredient. Or at least somewhat unusual ingredient.
That ingredient is mayonnaise. I know. I know. But please stay with me on this one. Chocolate Mayonnaise cake is a famous cake that was popular thirty or forty years ago.
Many of us had mothers or grandmothers that made it. It was on the back of the mayonnaise jar for years.
The mayonnaise is the fat and it makes it moist and delicious. It also makes it the best gluten free chocolate cake that I have made.
That basic batter worked great in this recipe. I added chocolate chips, coconut, and a chocolate coconut glaze. If you love chocolate and coconut you need to make this.
Did I mention that it is also easy to make? It is so easy to make and it is perfect for the holidays!
Need more gluten free cake recipes? Try one of these:
My Favorite Cake Pan for Making This:
My favorite bundt pan that nothing sticks to is the USA Bundt Pan. Seriously this pan is so nice. The cakes cook evenly and come out perfect every time. Yes, even gluten free cakes come out perfectly.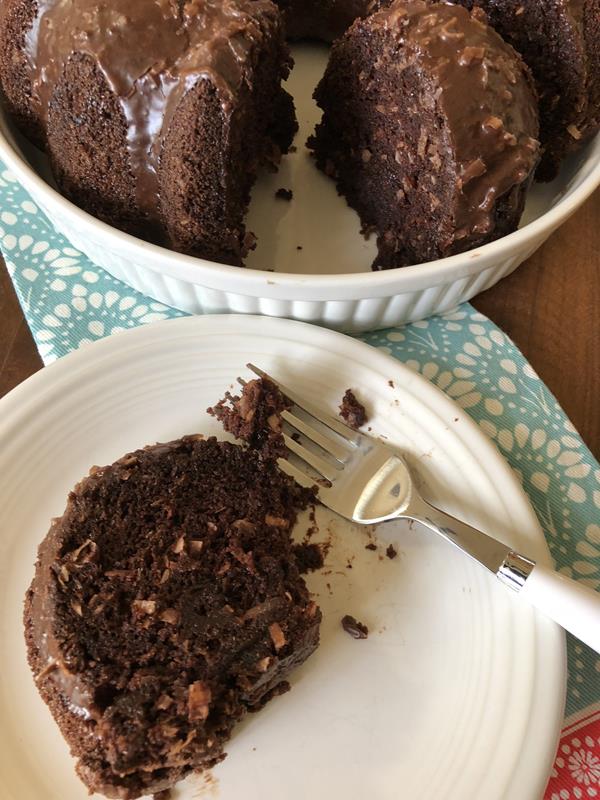 Gluten Free Dairy Free Chocolate Coconut Bundt Cake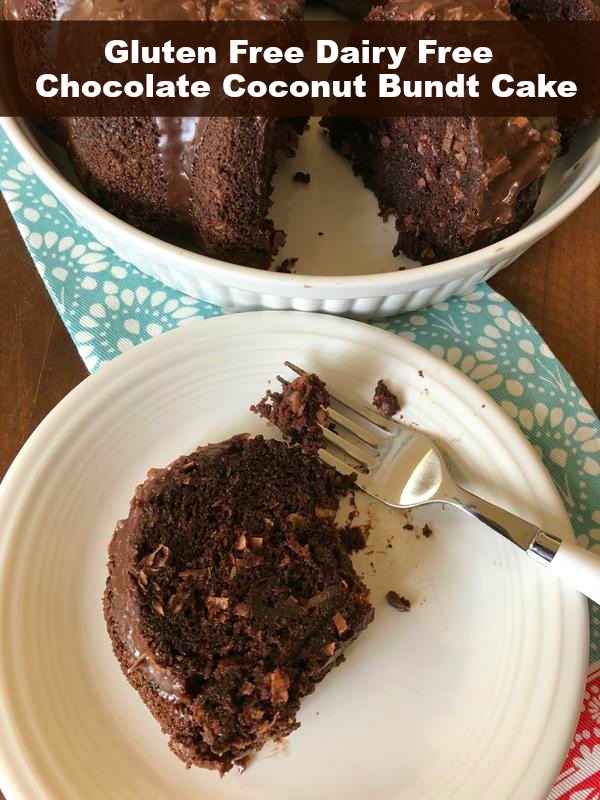 Easy and delicious gluten free cake. It is so good that you will not know it is gluten free!
Ingredients
Cake
1 cup white rice flour
½ cup sweet rice flour
½ cup cornstarch
1 teaspoon xanthan gum
⅔ cup unsweetened baking cocoa
1¼ teaspoons baking soda
¼ teaspoon baking powder
3 eggs
1⅔ cups sugar
1 teaspoon vanilla extract
1 cup mayonnaise
1⅓ cups water
1 cup gluten and dairy free chocolate chips
1 cup shredded coconut
Glaze
3 tablespoons baking cocoa
1 1/2 cups powdered sugar
2 - 3 tablespoons coconut milk
1/4 cup shredded coconut
Instructions
Preheat oven to 350 degrees.
Grease a bundt pan well.
In a medium bowl combine rice flours, cornstarch, xanthan gum, cocoa, baking soda, and baking powder. Set aside.
In a bowl using a mixer, beat eggs, sugar, and vanilla until well combined. About 3 minutes.
Beat in mayonnaise.
Add ⅓ of the flour mixture. Mix just until combined. Add half of the water and mix just until combined. Add remaining and flour alternating between flour and water. End with flour mixture.
Stir in chocolate chips and coconut.
Spread batter into bundt pan.
Bake for 50-55 minutes or until toothpick inserted into the center comes out clean.
Let cool in pan for about 5 minutes. Remove from pan to wire rack to cool.
For glaze:
In a bowl combine cocoa and powdered sugar.
Stir in 2 tablespoons coconut milk and stir or whisk until smooth.
Stir in coconut.
Add more coconut milk if needed for desired texture.
Drizzle over cooled cake.