Baked Taco Spaghetti is a great way to change up pasta night. It is also a great way to stretch some of the leftovers you might have in the fridge from taco night.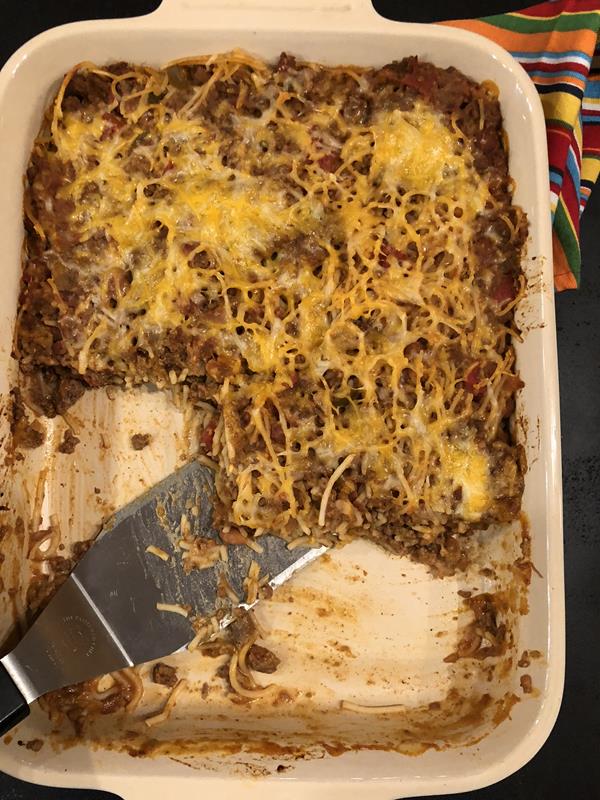 Do you struggle as much as I do with using up leftovers?
A lot of people say they don't like leftovers and I get that. I can't say that I love leftovers. But I think they are a part of kitchen life that we can't really avoid.
There will always be those little odds and ends of meals in the fridge. Or those few vegetables leftover or that we bought and never used.
Get Creative with Leftovers
I have learned over the years that the best way to use up leftovers is to get creative with them. Instead of serving them the same way for several days, I look for ways to change them up.
My sisters and I joke about my mom being a master cook when it came to leftovers. We tease that she could make a roast last all week. Which is kind of a stretch, but kind of not.
Growing up we would have roast one day for dinner, usually on the weekend. Then my mom would use the leftovers for several days.
She would make soup with the leftovers or turn them into a rice or pasta dish that took a little bit of meat and turned it into a full meal.
If there were bones she would cook them and turn them into a broth for using later. Or she would take the last few bits of meat and turn it into a gravy that she served over potatoes or occasionally even bread.
She usually made the most of any leftovers we had. Rarely did anything end up in the trash. She used the food up and nothing went to waste.
Did the meals always turn out delicious. No. But they were filling and decent and it made feeding a family of six a lot easier on the budget.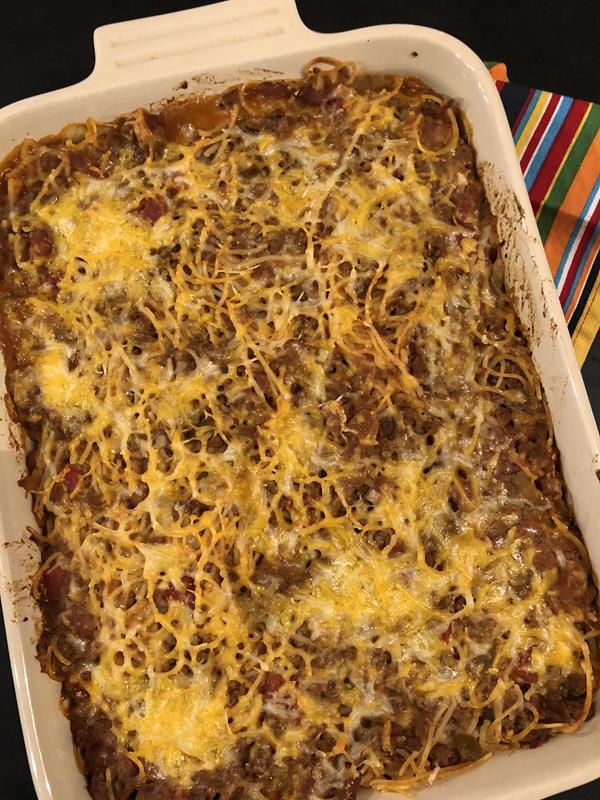 In our current generation and time I think we take food for granted. We constantly go to the store for exactly what we need to cook an exact recipe. We then end up with food that is leftover or for whatever reason doesn't get used and it goes to waste.
I am as guilty of this as anyone. Too much food has gone to waste lately at my house. I am trying to work on that though. I need to get back to being creative with our leftover food.
This baked taco spaghetti is an example of that. We eat a lot of Mexican food, especially tacos. They are easy to make and everyone loves them. They are also easy to make gluten free.
We recently had a large group of church friends over and did a Mexican themed meal. We did a taco/taco bowl/taco salad type of thing.
Basically we set out all kinds of taco type food and everyone just piled it on their plate however they liked.
I was in charge of the meat and everyone else brought beans, rice, tortilla, chips, toppings, etc. It worked great. It is a great way to serve a crowd and pretty much everyone can find something they like or that works with their diet.
I ended up with quite a bit of meat left. Which I knew I might. I usually cook too much food, which I guess is better than too little. I had some seasoned ground meat and some Mexican pork left.
I also ended up with quite a few random opened jars of salsa that were left, some chips, and a few other things.
The first night we had the leftovers as tacos. My kids and husband also had the leftovers for lunches for two days.
By the third day I needed to change up what I was serving. My family loves tacos, but not three or four days in a row.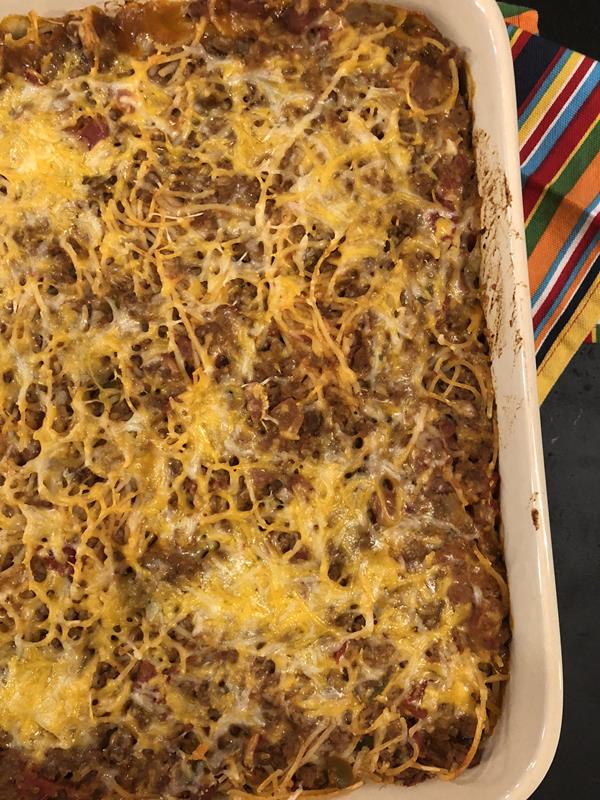 I thought about making a layered Mexican casserole with tortillas or chips, but I wanted something different. I decided on pasta.
I cooked up some spaghetti, added the leftover seasoned ground beef, stirred in two different kinds of salsa, and added a few other things. I put it in the oven and it turned out great!
It was the perfect way to use up the leftovers without serving the same thing again. It was like a totally different meal and my family loved it.
This Baked Taco Spaghetti would also make a great freezer meal.
Use Up Leftovers
So I encourage you to use up those leftovers. Turn them into something new. Add pasta, cheese, or something else to them. Turn them into a casserole or soup. Use them up in creative and fun ways.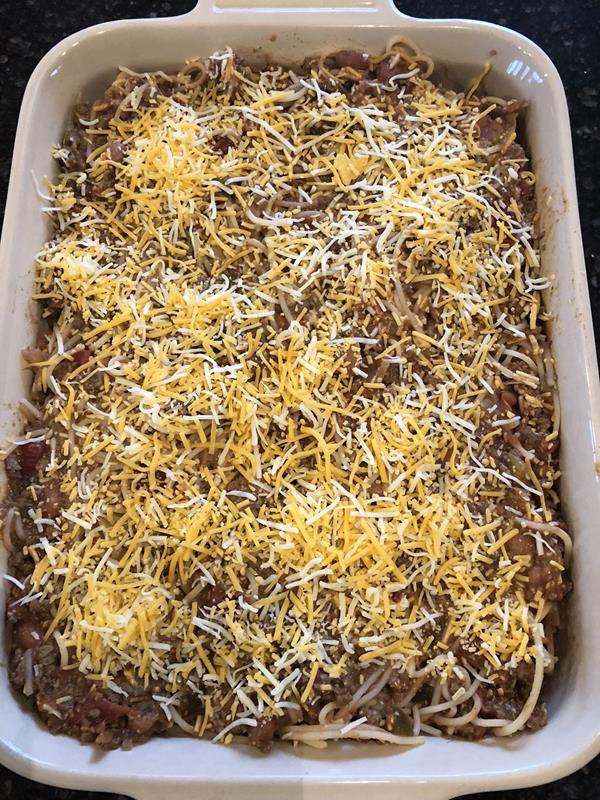 Like casseroles like this? You might enjoy these recipes:
Baked Taco Spaghetti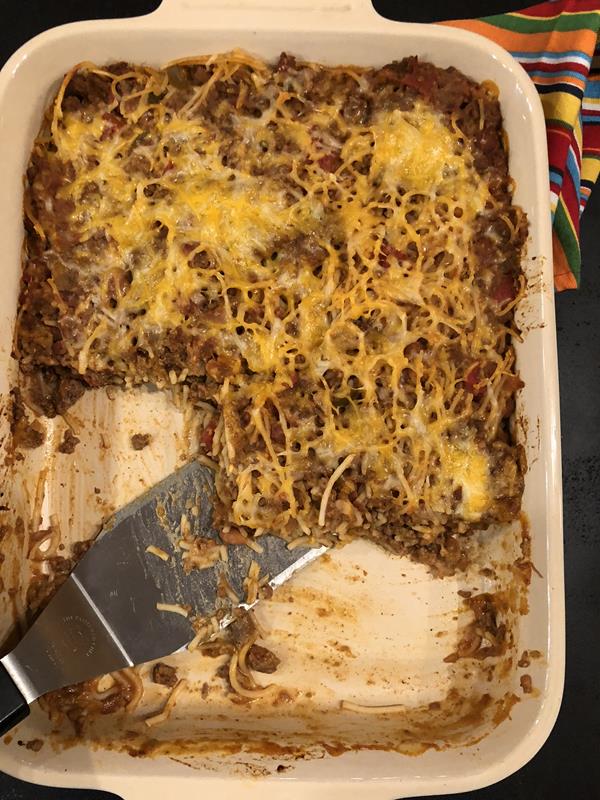 Baked Taco Spaghetti is an easy way to change up pasta or taco night.
Ingredients
12 ounces uncooked spaghetti ( I use gluten free spaghetti)
1 pound ground beef
1- 15 ounce can pinto beans, rinsed and drained
1- 10 ounce can diced tomatoes with green chilies
1 cup salsa
2 cups shredded cheddar, colby jack, or Mexican cheese
Instructions
Preheat oven to 350 degrees.
Cook spaghetti according to package.
While pasta is cooking cook ground beef in separate pan until browned and no longer pink. Drain off any fat.
Add taco seasoning according to directions.
Add meat to cooked and drained pasta.
Stir in beans, tomatoes, and salsa.
Stir in 1 cup of cheese.
Spread pasta mixture into a 9x13 pan or similar sized casserole type dish.
Sprinkle with remaining cheese and bake for 20-25 minutes or until heated through and cheese is melted.
Notes
In place of ground beef and taco seasoning you can use leftover seasoned taco meat.
This is a freezer friendly meal so make two pans and freeze one for serving on a busy day.