I have been in the baking mood lately and if there is one thing that I miss since going gluten free it is baking. I still bake gluten free, but it is different. It is a lot more expensive and disasters happen often.
Baking has always been a stress reliever for me. If I have a bad day or an especially crazy week, I find it relaxing to bake, but I do not find gluten free baking very relaxing. Over the last few years I have slowly started to enjoy it more, but it is still not very relaxing.
For me when life around me is crazy, I love to take a break and bake a wonderful and delicious treat that I can share with others. It is not so much about eating, although I like to eat, it is about the creativity and the sharing that I love so much.
The last few weeks have been very busy and crazy and I have really felt the need to bake, and so I have baked all kinds of delicious things. Some gluten free and some not gluten free. Yes, using flour in a house where you have gluten free eaters is challenging.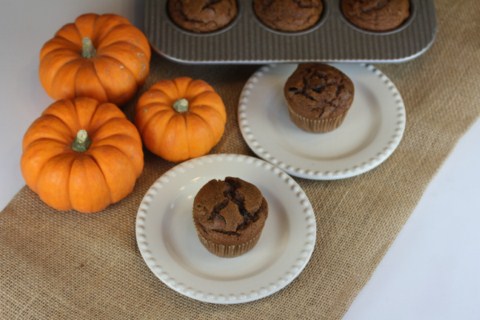 Sometimes I stir the ingredients on my patio table, sometimes in the dinning room table out of the way of the main part of the kitchen, and other times I just clean the kitchen from top to bottom after I bake with regular flour. Cleaning can also relieve stress 🙂 and there is always a ton of cleaning to do if I use regular flour in my kitchen.
I know this is not what many of you do, but it works for us. And one of the reasons that it works for us is that I am still able to come up with treats both gluten free and regular ones.
Today's gluten free double chocolate pumpkin muffins is an example of that. I actually made the gluten free muffin first and it was so good, I knew I had to make a regular version for my husbands staff and for my husband and son to enjoy.
By making separate versions at totally different times I was able to stock my freezer with homemade treats that everyone in my family enjoys.
Now I am curious do you love to bake and do you find it relaxing? If you do enjoy it, do you find gluten free baking relaxing? And do you bake completely gluten free or do you occasionally also bake regular food?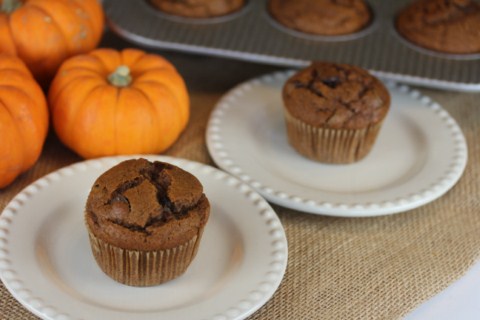 Yield: 30 muffins
Gluten Free Double Chocolate Pumpkin Muffins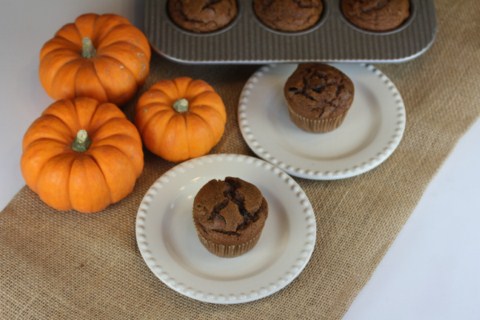 Gluten free pumpkin muffins made better with double chocolate.
Ingredients
1/2 cup baking cocoa
2 cups rice flour
1 cup sweet rice flour
1/2 cup cornstarch
3 1/2 cups sugar
1 1/2 teaspoons salt
1 1/2 teaspoons baking powder
1 1/4 teaspoons baking soda
1 1/4 teaspoons ground cinnamon
3 eggs
1 - 29 ounce can pumpkin ( regular canned pumpkin not pie filling)
1 1/4 cup oil
1 1/2 teaspoons vanilla
2 cups semi sweet chocolate chips
Instructions
In a bowl combine cocoa, rice flour, sweet rice flour, cornstarch, sugar, salt, baking powder, baking soda, and cinnamon. Set aside.
In other bowl mix together eggs, pumpkin, oil, and vanilla.
Stir dry ingredients into wet ingredients.
Stir just until combined and fold in chocolate chips.
Grease muffin tins or use paper liners.
Scoop batter into muffin pans filling 3/4 full.
Bake at 350 for 20 minutes or until done.
Nutrition Information:
Yield:
30 minutes
Serving Size:
1
Amount Per Serving:
Calories:

309
Total Fat:

14g
Saturated Fat:

3g
Trans Fat:

0g
Unsaturated Fat:

10g
Cholesterol:

19mg
Sodium:

192mg
Carbohydrates:

47g
Fiber:

1g
Sugar:

30g
Protein:

2g
Nutritional values are approximate and aren't always accurate.