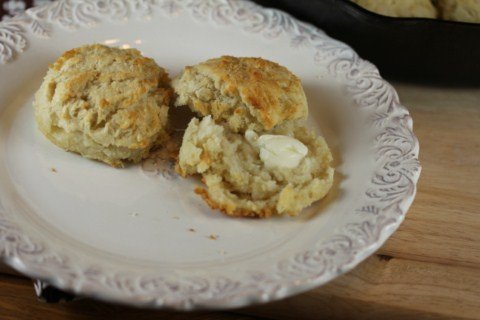 Light and fluffy gluten free drop biscuit anyone?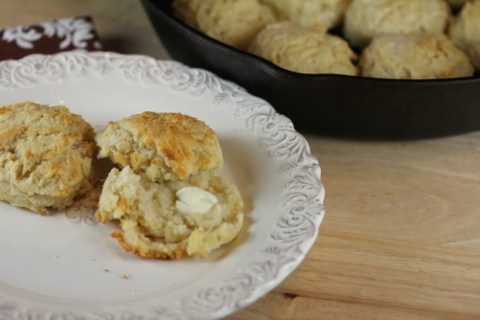 My family loves biscuits and it has been one of the foods that they really missed since we went gluten free. I have an angel type biscuit that I adapted to be gluten free, but my family missed the more traditional type of biscuit.
Biscuits have not been high on my list of things to perfect gluten free though. This is mainly because I am not a huge biscuit fan. I did not grow up eating biscuits, we ate a lot of homemade bread, but I rarely remember eating biscuits.
And biscuits and gravy, well let's just say I was dating my husband when I first tasted those. So, biscuits have not really been high on my list of foods to recreate.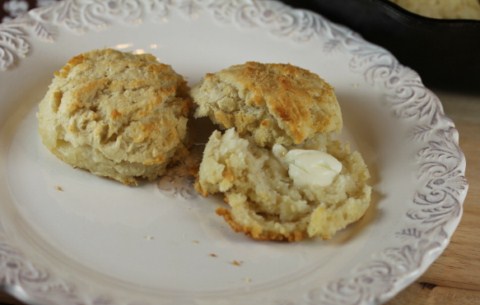 My family however has really missed them, especially my twelve year old, so I knew I had to work on getting gluten free biscuits just right.
And once I got it just right, I realized that I really did miss them. Oh, these were so good fresh from the oven with butter. YUM!
I am not even going to admit how many times I made these, or how many of these I ate, the week I finally got these gluten free biscuits right. So delicious!
When I started working on creating a really good gluten free biscuit, I knew a drop biscuit would work best. Now, I know many true southerners would not consider a drop biscuit a traditional biscuit, but when it comes to gluten free biscuits, it makes them so much easier.
Gluten free doughs tend to be stickier and wetter and making these as drop biscuits gives you a much better, and lighter, texture than you get rolling the dough out.
I love making these in a cast iron pan because it gives them a nice crispy outer edge. I have used a cookie sheet and it works fine, but if you have a cast iron pan I suggest baking them in it.
These are great leftover with gluten free gravy, but if you want to serve them with butter, jam, or honey, they are best fresh from the oven.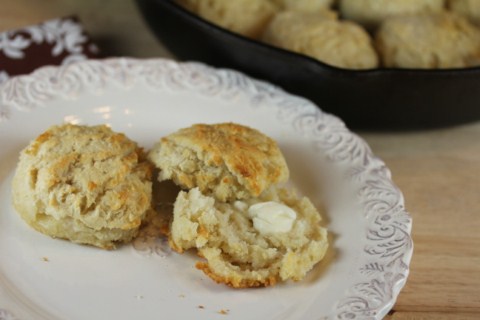 Yield: 18 biscuits
Gluten Free Drop Biscuits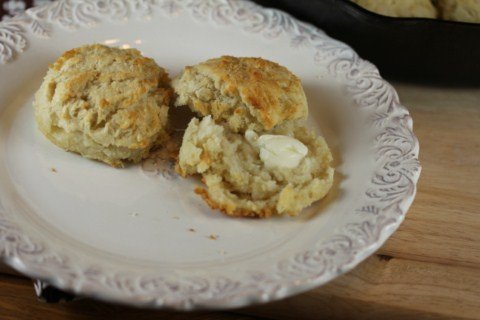 Gluten Free Drop Biscuits are a classic drop biscuit made gluten free.
Ingredients
1 1/2 cup brown rice flour
1/2 cup potato starch
1/4 cup tapioca flour
1/2 teaspoon xanthan gum
1 tablespoon baking powder
1/2 teaspoon cream of tartar
2 teaspoons sugar
1/4 teaspoon salt
1/4 teaspoon baking soda
1/2 cup butter
1 1/4 cup buttermilk
Instructions
In a large bowl combine brown rice flour, potato starch, tapioca flour, xanthan gum, baking powder, sugar, salt, cream of tartar, and baking soda.
Cut butter into small chunks and cut into flour mixture until butter is mixed in and about pea sized.
Stir in buttermilk until combined. Be careful not to over mix. You want it well mixed, but not over mixed.
Drop onto a cast iron skillet or cookie sheet. This makes about 10 biscuits.
Bake at 450 for 15-18 minutes or until biscuits are done.
Nutrition Information:
Yield:
18
Serving Size:
1
Amount Per Serving:
Calories:

128
Total Fat:

6g
Saturated Fat:

3g
Trans Fat:

0g
Unsaturated Fat:

2g
Cholesterol:

14mg
Sodium:

205mg
Carbohydrates:

18g
Fiber:

1g
Sugar:

2g
Protein:

2g
Nutritional values are approximate and aren't always accurate.