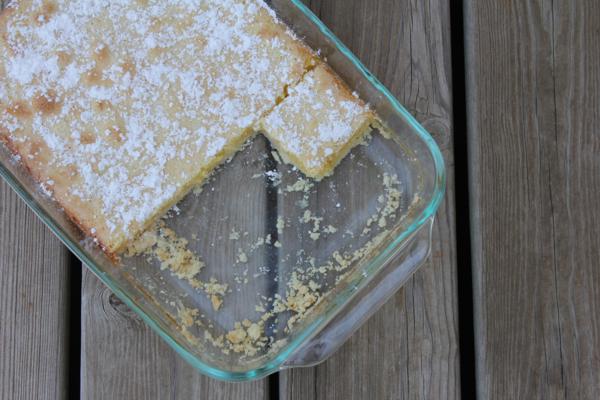 Some of the hardest recipes that I convert to gluten free are the ones that my family has made and loved for years. The reason is that I want them to be just right. I don't want them to be okay or even just good, I want them to be the exact same, only gluten free.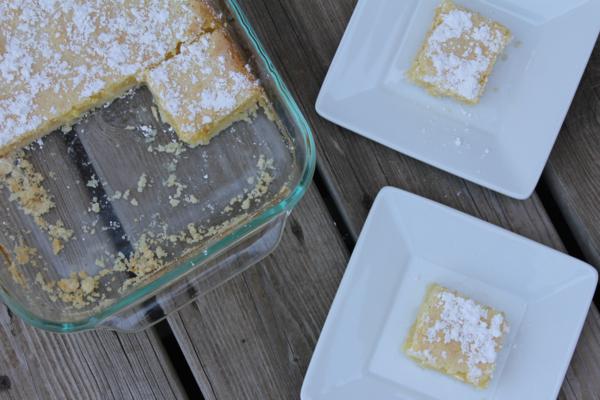 When you have eaten a certain food or recipe for years you know what it should taste like. Good is not going to cut it. You want it to be the same.
The recipes like my mom's coconut bars that I have been eating since I was a kid need to taste the same. If they don't taste the same I keep trying and trying until I get it right.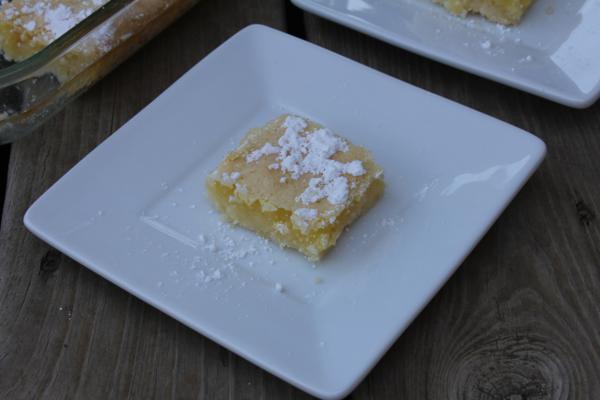 My mom's lemon bars are one of those recipes that I had to try again and again to get just like I wanted because what I wanted were lemon bars that were just like my mom's lemon bars.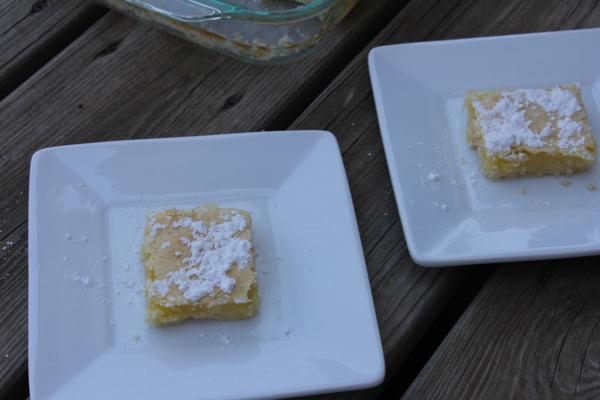 When I was adapting these to gluten free I had trouble with both the crust and the filling. Neither one was quite the same. I finally got the filling right using cornstarch.
I originally tried a gluten free flour blend and then tried several different gluten free flours, none of them set up quite the same. I finally settled on cornstarch as the thickener to get it just right. It has the taste and texture that I remember.
Then I had to work on the crust. The crust on my mom's lemon bars was a little different than many of the other lemon bars that I had eaten. The ratio of butter, flour, and powdered sugar was not quite the same. It is shortbread like, but not too shortbread like. I think the crust might have actually been harder for me to get right than the filling.
I finally got the results I wanted using rice flour, sweet rice flour, and cornstarch. I know that not everyone keeps sweet rice flour in their kitchen, but you should. It is the flour I use the most when I can't get the right texture in a gluten free dessert.
Sweet rice flour is higher in starch and less than gritty than regular rice flour. I have found that it makes a big difference in some gluten free baked goods. These lemon bars are one of those cases where I think sweet rice flour is a must. Once I tried the sweet rice flour, I had them as close to my mom's as I think I can get.
There are times when gluten free baking is challenging, but when I get the right results it is so worth it.
Yield: 18 servings
Gluten Free Lemon Bars ~My Mom's Lemon Bars Made Gluten Free
Gluten Free Lemon Bars are my mom's lemon bars made gluten free.
Ingredients
Crust
1 cup butter, cut into small pieces
1/2 cup powdered sugar
1 cup rice flour
2/3 cup sweet rice flour
1/3 cup cornstarch
Filling
2 cups granulated sugar
4 tablespoons cornstarch
4 tablespoons lemon juice
4 eggs
Instructions
Preheat oven to 325.
In a bowl combine powdered sugar, rice flour, sweet rice flour, and cornstarch.
Cut in butter until mixture is crumbly and chunks are about pea sized.
Press into 9x13 pan and bake for 20 minutes.
While crust is baking whisk together granulated sugar, cornstarch, lemon juice and eggs.
Pour over baked crust and return to oven. Bake 25 minutes.
Remove from oven and let cool 15 minutes. Sprinkle with powdered sugar.
Let cool completely and cut into squares.

Nutrition Information:
Yield:
18
Serving Size:
1
Amount Per Serving:
Calories:

274
Total Fat:

11g
Saturated Fat:

7g
Trans Fat:

0g
Unsaturated Fat:

4g
Cholesterol:

68mg
Sodium:

98mg
Carbohydrates:

41g
Fiber:

0g
Sugar:

25g
Protein:

2g