Do you miss Little Debbie snacks since going gluten free? These Gluten Free Little Debbie Brownies will satisfy your craving for those snacks you used to love.
I will totally admit that I was never a huge Little Debbie snack person. They were fine, but not something I craved. My son though LOVES them.
I don't buy them a lot, but since my son is not gluten free, I will occasionally buy him a few boxes of Little Debbie snacks.
He was recently eating one of Little Debbie's brownies and for some reason I wanted one. I really wanted one. Like I wanted one right then. But I couldn't have one because they aren't gluten free. I had to settle for something else.
However it did get me thinking about coming up with my own homemade version of Little Debbie Brownies.
I searched online, but didn't find anything that was exactly what I was looking for. Some of the recipes looked good, but they didn't look or sound like the real thing.
If I am going to put the work into a homemade version I want it to be as close to the real thing as I can get it.
So I set to work coming up with my own homemade gluten free Little Debbie brownie.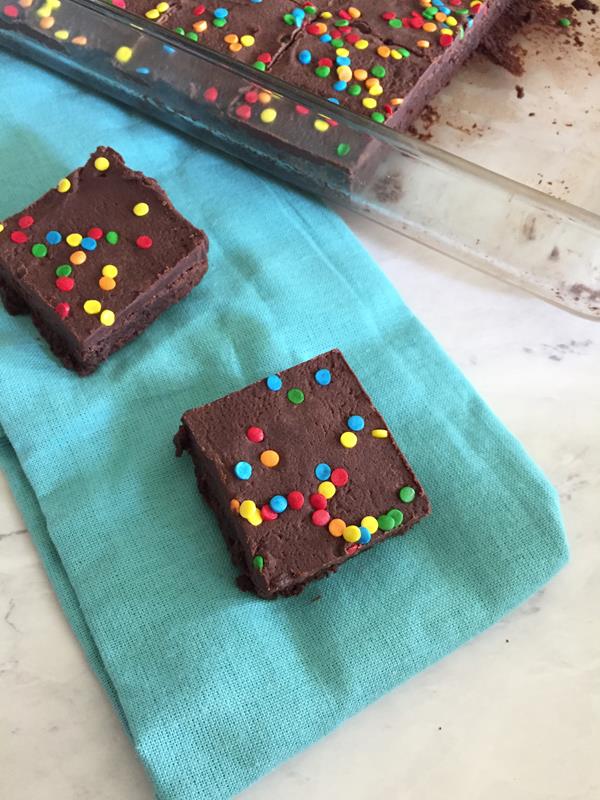 After some trial and error and lots of experimenting I came up with a gluten free version that we love. My son, who eats Little Debbie Snacks all the time, said they were very close to the real thing.
It has been years since I had a real one, so I can't say for sure, but I think they might be a little better than the real thing.
If you or your kids have been missing Little Debbie brownies these are a must make. Seriously make a batch. They are so good.
I will say that the sprinkles are not necessary. I found them in the cake decorating section at the store, because I wanted them for pictures, but you don't have to have them unless you really want them to look real. They don't add much to the flavor.
You could also use a mini m&m type of candy, but those aren't always gluten free.
My daughter has a nut allergy so we don't do tree nuts, but if you can have walnuts I would sprinkle those on top for a homemade gluten free version of the Little Debbie brownies with nuts.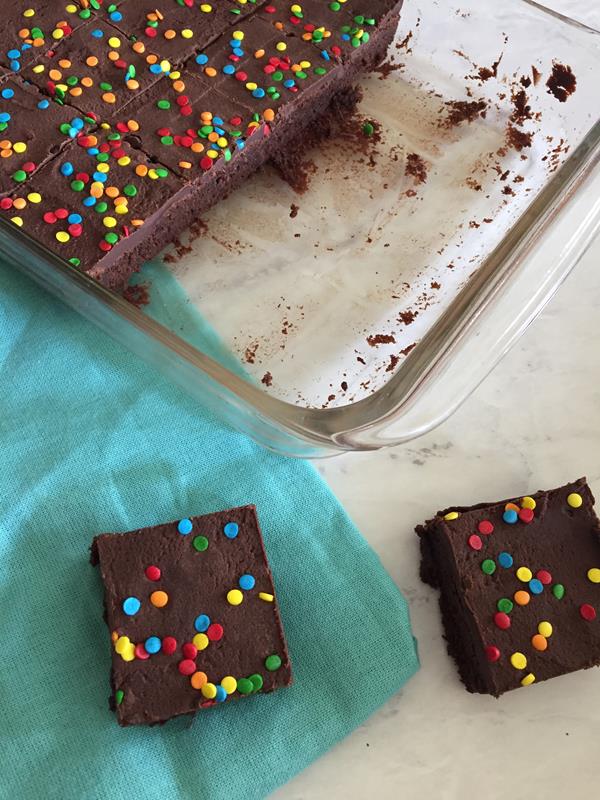 If you like making your favorite recipes at home you might enjoy these recipes: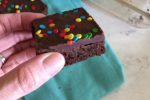 Gluten Free Little Debbie Brownies
Gluten Free Little Debbie Brownies are a homemade gluten free version of a favorite treat.
Ingredients
3/4

cup

white rice flour

1/4

cup

sweet rice flour

1/4

cup

cornstarch

1/2

teaspoon

xanthan gum

3/4

cup

baking cocoa

1/2

teaspoon

baking powder

1/8

teaspoon

salt

1

cup

sugar

3/4

cup

brown sugar

3/4

cup

butter, melted

2

teaspoons

vanilla extract

2

eggs

1

egg yolk

Don't leave this out and don't use a full egg. The egg yolk helps the texture.

2

tablespoons

water
Fudge Topping
1 1/2

cups

chocolate chips

be sure that they are gluten free

3

tablespoons

heavy cream

sprinkles
Instructions
Preheat oven to 350 degrees.

Grease a 9x13 pan and set aside.

In a bowl combine white rice flour, sweet rice flour, cornstarch, xanthan gum, cocoa, baking powder, and salt. Set aside.

In a mixing bowl beat melted butter, sugar, brown sugar, and vanilla until light and fluffy.

Add eggs and egg yolk, one at a time, mixing well after each addition.

Mix half of the flour mixture into batter and mix just until combined.

Add water and mix until combined.

Add remaining flour mixture and mix until combined.

Spread into 9x13 pan and bake for 18-20 minutes or until. You don't want to over bake these, but you do want them set. Let cool in pan.

Once brownies are cool combine chocolate chips and whipping cream in a bowl. Microwave for 30 seconds on 50% power. Stir and repeat until chocolate is melted

Stir chocolate until smooth and spread over cooled brownies.

Sprinkle with sprinkles (or nuts) if desired.

Let fudge topping set up and cut into squares.