Gluten Free Maple Bacon Oven Pancake anyone?! How can anything with maple, bacon, and pancake in the title be bad?
You will often find oven pancakes on our menu plan. We eat them several times a month. And we will eat them just about anytime of day. Oven pancakes are perfect for breakfast, lunch, or dinner.
I have mentioned before how much I love oven pancakes. I shared the basic idea a couple of years ago and many of you now say it is the only way you make pancakes. I do make pancakes the regular way, on a skillet or griddle, but I often turn to oven pancakes when I am in a hurry. They make pancakes easy anytime.
This gluten free maple bacon oven pancake is a little different take on a plain oven pancake. I took the basic idea of pancakes and syrup with a side of bacon and combined it into one amazing breakfast. Seriously, bacon and maple syrup stirred into pancake batter is pretty delicious.
Spread the batter into a pan and bake it in the oven and it is even better because it makes for a quick and easy breakfast perfect for any day of the week. And did I mention that it is gluten free!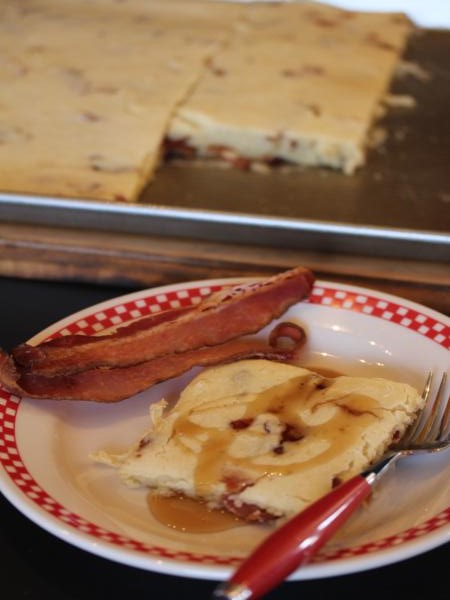 Gluten Free Maple Bacon Oven Pancake
2 eggs
4 tablespoons of butter, melted
2 cups buttermilk
1/4 cup maple syrup
3/4 cup brown rice flour
3/4 cup white rice flour
1/2 cup potato starch
1/3 cup tapioca starch
1/4 teaspoon baking soda
1 1/2 teaspoons baking powder
3/4 teaspoon salt
1/2 teaspoon xanthan gum
1/3 pound gluten free bacon, cooked and chopped
Whisk together the eggs, butter, and buttermilk.
Whisk in the remaining ingredients, except bacon, and whisk just until combined. This batter will be a little lumpy.
Stir in bacon.
Pour batter into a greased 12×15 or 11×14 pan and spread out evenly. I have done this in various sized jelly roll type pans and as long as they are close to that size it has worked for me.
Bake at 375 for 12-15 minutes or until done. It will be similar in texture to a pancake when it is done.
Serve with butter and syrup.