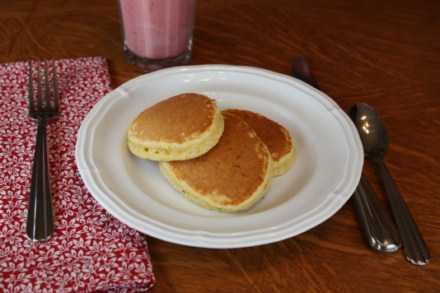 These pancakes were inspired by a recipe that I found on the King Arthur Flour Website. The original recipe was for a gluten free lemon cornmeal pancake.
I loved the idea of a gluten free pancake that was so simple, but I thought my kids would prefer something besides the lemon that the original recipe contained. So, I simply adapted this and went with a maple flavor instead and it worked great.
The maple went well with the cornmeal type pancake and we all loved them.
Now, these are a little different than a normal pancake. The texture is not quite the same, but we still really enjoyed them.
And I love the fact that these only contain a few ingredients.
Depending on your family size you may need to double this. If it is just my kids eating these, I make a single batch, but if the whole family is eating, I double it.
I hope you enjoy!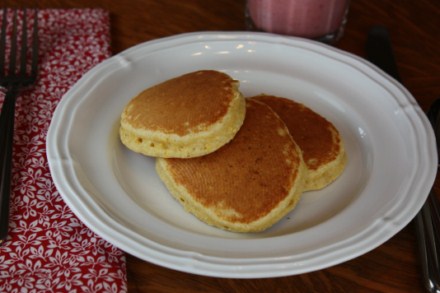 Gluten Free Maple Cornmeal Pancakes
1/2 potato starch
3/4 cornmeal ( I used fine grind cornmeal)
3 tablespoons of sugar
1 1/2 teaspoons baking powder
1/2 teaspoon salt
1/3 teaspoon xanthan gum
2 eggs
3 tablespoons melted butter
3/4 cup milk
2 tablespoons maple syrup
Whisk all ingredients together just until combined.
Cook on a preheated griddle. Until bubbly on top. Flip over and cook an additional 1-2 minutes.