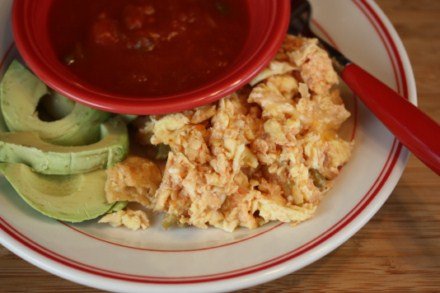 Migas were one of the first meals that I discovered I could eat after going gluten free. I was still in that overwhelmed, trying to figure out what I could eat, stage. So when I realized that migas were gluten free I was so excited. And it was regular food that was gluten free. It was not some strange, odd tasting, meal. It was normal everyday food.
One of the things that I loved about migas was that not only were they gluten free, they were also a quick and easy, inexpensive meal to serve my family. Quick, easy, and inexpensive are things we all need in gluten free recipes.
For my migas recipe all you need to do to make them gluten free is to be sure your tortilla chips are gluten free. That is it. Most tortilla chips are gluten free, but be sure to read labels to be sure.
And this recipe is a great way to use up those little bits of chip crumbs that are in the bottom of the bag in the cupboard. Or am I the only one that has those in my cupboard?
If you have never tried migas, you should. I think they are a gluten free meal that your family will enjoy!