Do you miss cinnamon rolls or monkey bread since going gluten-free? This easy to make gluten-free monkey bread is a treat that your whole family will love.
Cinnamon rolls are by far the food I miss the most since going gluten-free. Yes, I know you can make gluten-free cinnamon rolls, I have tried many times, but they are one of those things that are just not quite the same.
I used to make those gooey, huge, cinnabon style, homemade cinnamon rolls. They were delicious! My whole family loved them. The gluten-free version though is just not the same.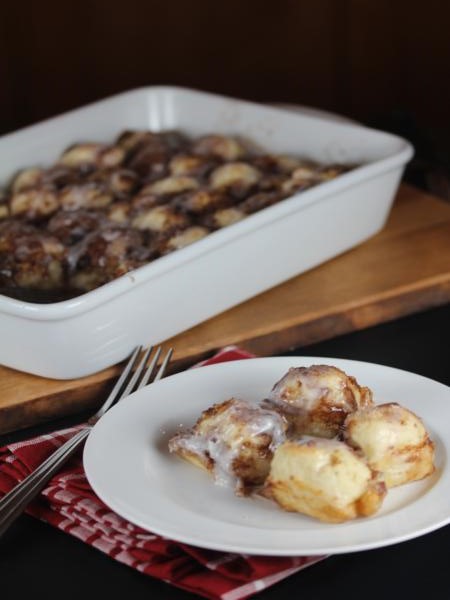 Because gluten-free bread lacks the gluten, that helps give cinnamon rolls that gooey delicious taste and texture, it is hard to get the exact same thing in a gluten-free version.
The other thing I have noticed about gluten-free dough is that it doesn't absorb butter/fat as well. It just seems to run off of something like a cinnamon roll, so a cinnamon filling doesn't work quite the same and your end result is not the same.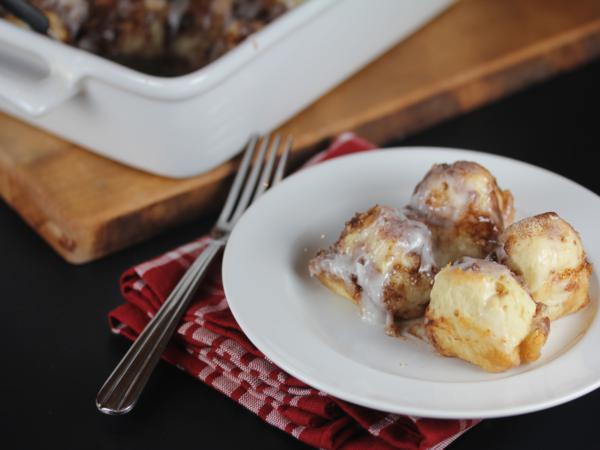 I have also noticed that the dough often seems dry. This probably has to do with the fats not working quite the same, so the middle of the cinnamon roll tends to dry out. A dry cinnamon roll is not a good thing.
I found a gluten-free dough that I really like and have been using a lot. I thought it had the potential for a cinnamon roll-type recipe, but I knew it would take some work. I talked to my sister about it and we discussed a few of the problems with gluten-free cinnamon rolls.
We talked about monkey bread and how it might work that way. I knew though that I did not want to roll the dough into butter like you do monkey bread, because the dough just doesn't absorb that fat, they would not be the same.
My sister suggested a crumb topping, similar to what you would use on a coffee cake. I loved that idea and decided to give it a try.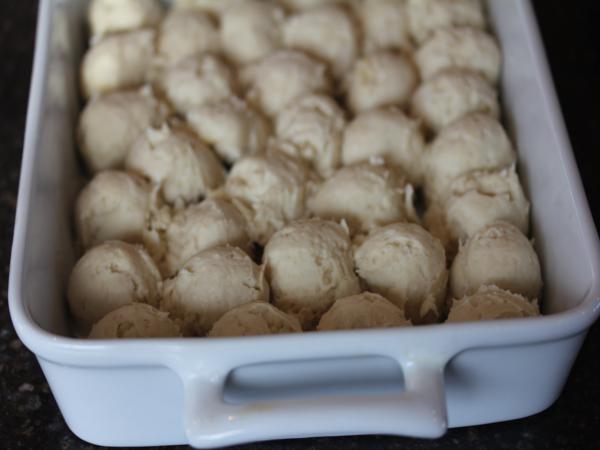 It worked! It really worked to make it like monkey bread when I tweaked the sugar butter part. I added a glaze-like you would put on a cinnamon roll and they were delicious! Seriously these were so good!
The butter from the topping dripped down between each ball of dough and gave it just the right amount of gooey texture without making it too much. The texture was perfect!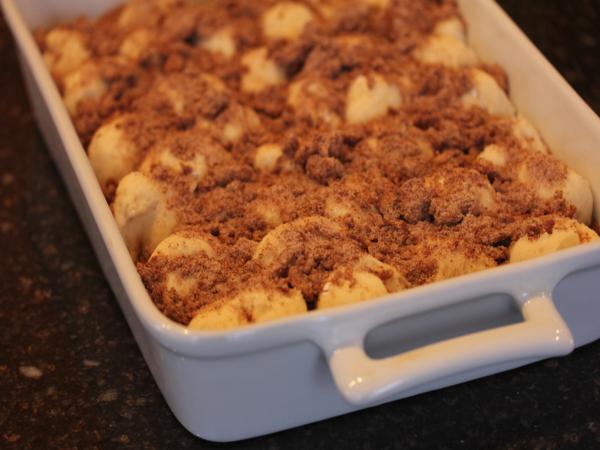 We managed to eat the whole pan in one day. And then two days later, I made them again so that I could photograph them to share with you all, we again ate the entire pan.
These satisfied my craving for cinnamon rolls. My husband, who eats gluten, said they were as close to the real thing as I have made. Even he loved them and said I could make them anytime I wanted.
If you having been missing cinnamon rolls since going gluten-free, give these a try. I think you will enjoy them!
Yield: 12 servings
Gluten Free Monkey Bread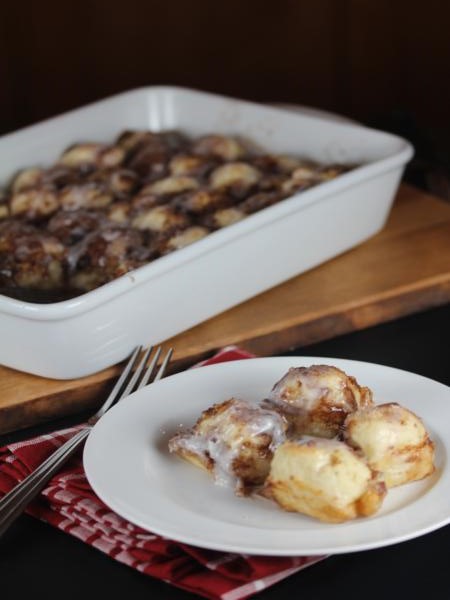 Gluten free monkey bread is all the flavors of a cinnamon roll in an easy to make gluten free monkey bread.
Additional Time
2 hours
2 seconds
Total Time
2 hours
40 minutes
2 seconds
Ingredients
2 tablespoons active dry yeast
2 cups warm water (about 110 degrees)
1/3 cup oil
1/4 cup sugar
1 egg
1 teaspoon salt
2 tablespoons xanthan gum
1 1/4 cups white rice flour
1 cup brown rice flour
3/4 cup potato starch
1/3 cup tapioca starch
Topping
1/4 cup butter
1/2 cup sugar
1 1/2 tablespoons cinnamon
Glaze
1 cup powdered sugar
2-3 tablespoons milk
Instructions
In the bowl of a mixer, dissolve yeast in warm water. Add sugar and let sit for about 5 minutes.
Add remaining ingredients, adding the xanthan gum last. . Mix using the dough hook of an electric mixer.
Mix for about 5 minutes, scraping down the sides of the bowl a few times. You do not knead this like regular bread dough, but it does need mixed well and I have found about 5 minutes is a good time.
Scoop into a greased 9x13 pan. The dough is a wet dough, so I found that using a cookie scoop works best for this, but you could just drop them in. I have found that golf ball or about that size works best.
Cover dough loosely with a kitchen towel and let rise for about 1 1/4 to 1 1/2 hours.
In a small bowl mix topping ingredients, cutting in butter until it is pea-sized or smaller.
Sprinkle topping mixture over dough.
Bake at 425 degrees for 18 minutes.
Combine glaze ingredients until smooth and drizzle half of the glaze over hot monkey bread.
Let cool for 30 minutes or so and drizzle remaining glaze on top.
Serve and enjoy!
Nutrition Information:
Yield:
12
Serving Size:
1
Amount Per Serving:
Calories:

356
Total Fat:

11g
Saturated Fat:

3g
Trans Fat:

0g
Unsaturated Fat:

7g
Cholesterol:

26mg
Sodium:

226mg
Carbohydrates:

60g
Fiber:

3g
Sugar:

22g
Protein:

5g