Gluten free peaches and cream pancakes anyone?!
One of my main goals with gluten free cooking is to make food and meals that taste as good as the real thing. Just because it is gluten free, does not mean that it has to taste bad or even gluten free. Gluten free can and should be good.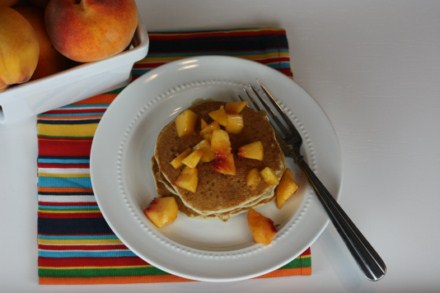 These pancakes are a perfect example of that. They are so good and my whole family loves them. They are perfect for breakfast this time of year when all the fresh peaches are available.
And these make a fun breakfast for the weekend.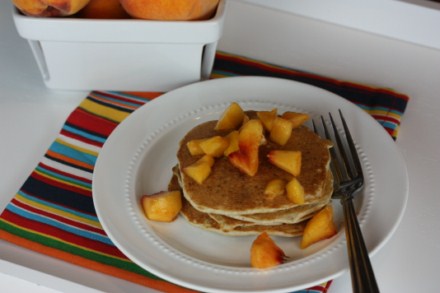 Gluten Free Peaches and Cream Pancakes
¾ cup sorghum flour
1/3 cup rice flour
¾ cup potato starch
½ cup tapioca flour
¼ teaspoon xanthan gum
1/4 cup sugar
3 teaspoons baking powder
1 teaspoon baking soda
1/2 teaspoon salt
2 eggs
1-1/2 cups milk
1 cup (8 ounces) sour cream
1/3 cup butter, melted
2-3 fresh peaches, peeled and chopped.
In a large bowl, combine the sorghum flour, rice flour, potato starch, tapioca flour, xanthan gum, sugar, baking powder, baking soda, and salt.
In another bowl, combine the eggs, milk, sour cream and butter. Stir into dry ingredients just until moistened.
Fold in peaches. Pour batter by 1/4 cupful onto a greased hot griddle and cook.
Serve with butter and syrup and enjoy!