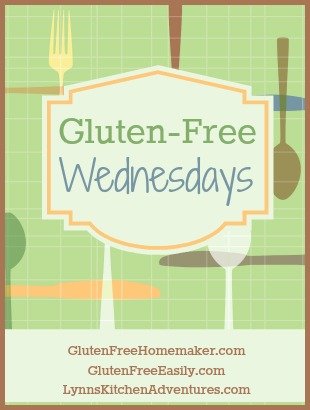 Food is a big part of everyday life. When your diet is restricted, however, figuring out what to eat becomes harder. The goal of this weekly carnival is to provide people with gluten-free eating ideas and information.
I would love for you to participate in this carnival, and participation is easy. Every Tuesday night (about 10:00 pm EST) I will put up a new "Gluten-Free Wednesday" post. You will be able to add your link until midnight on Thursday. Please read over these guidelines, and you'll know what to do.
Carnival Guidelines
1. All links should provide a gluten-free eating idea or information about the gluten-free diet. You don't have to have a gluten-free blog. Many meal ideas are naturally gluten free.
2. You do not have to link to a recipe, but they are the most popular. Recipes should be gluten free or specifically state gluten-free options (keep in mind that some people are new at this).
3. Please provide a text link to my site somewhere in your post. This helps others to find the carnival and is simple blog etiquette. Please do not link to an image only or to a page/post with a list of carnivals. (You only need to link to one co-host.)
4. When you add your carnival  link, please enter the permalink to your post, not a link to your homepage. This keeps people from having to search for the post if they follow the link at a later time. It also allows you to use an older post. You can usually get the permalink by clicking on the blog post title and then copying it from the address bar.
5. Please do not link to a post where you are hosting your own blog carnival.
6. Please do not host your own Gluten-Free Wednesdays carnival.
7. If you would like to use the above button or one below, please save the image to your computer and upload it to your blog.
8. This carnival is co-hosted with Shirley of gluten free easily and Linda of The Gluten Free Homemaker. You can enter your link at any of our three sites and it will show up in all three places. You only need to link back to one site.
Note:  Linking up indicates you are giving permission for us to share your submitted photo and your link via social media or in next week's post if it is selected as the most popular post for the week or featured as a highlight.