Fresh corn on the cob is one of my favorite summertime dishes. I have loved it since I was a kid. We always grew corn in the garden when I was growing up, and my sisters and I looked forward to it every year.
My mom always just boiled the corn to cook it. This is a very easy and tasty way to cook it, but my family also enjoys grilled corn on the cob.
In the past, I had just grilled the corn with a little butter, but I have read several recipes over the last few years that grilled the corn wrapped in bacon. I have always wanted to try it and this year I finally did.
Can I just say that bacon makes everything better, doesn't it? Less healthy, but better.
My husband said this was the best corn on the cob that he had ever had. It really was that good. Not only was it that good, this was really easy.
Here is what I did.
Remove the husk from the corn.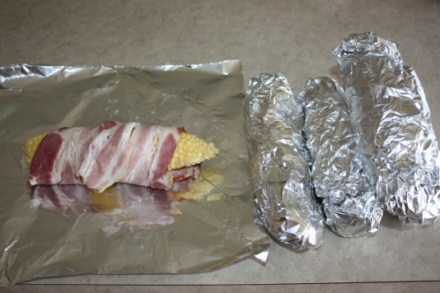 Wrap each piece of corn in bacon. It usually takes 1 piece of bacon per ear of corn.
Wrap each ear of corn in foil.
Grill over medium to medium low flame for about 10-13 minutes or until tender.
The corn cooked like this is really good, but I thought the bacon had an odd texture. I did not eat mine, however the rest of the family put their bacon on their hamburgers. and they said it was really good.
Serve and enjoy!
This post linked to Ultimate Recipe Swap.