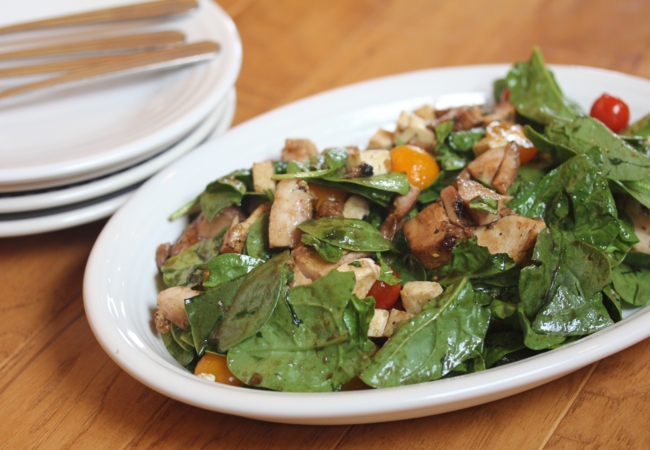 Grilled chicken, spinach, tomatoes, and mozzarella cheese combined in a salad make for a delicious, yet simple, summer meal.
This salad is my new favorite salad. It is healthy, delicious, and a filling lunch or dinner.
And since it contains meat, this is a salad my husband will eat as a main dish. A summer salad we can all enjoy for dinner is always a good thing.
Grilled Chicken and Spinach Salad
1/4 cup sugar

1/4 cup oil

2 tablespoons balsamic vinegar

1/4 teaspoon Worcestershire sauce

1/4 teaspoon onion powder

1/4 teaspoon salt or to taste

10 ounces fresh spinach, rinsed and dried well

1 1/2 pounds boneless chicken breasts or tenders

1 cup cherry or grape tomatoes, sliced in half
4 ounces fresh mozzarella cheese cut into chunks
In a bowl whisk together sugar, oil, balsamic vinegar, Worcestershire sauce, onion powder, and salt.

Divide dressing mixture in half. 

Place chicken and half of the dressing in a zip top bag and refrigerate for 2-3 hours. Set remaining dressing aside for use when serving.
Remove chicken from fridge. Remove chicken from bag and discard dressing. Grill chicken over medium heat for 7-8 minutes per side or until chicken is done. Time may vary depending on the size of the chicken pieces.

For serving combine the spinach, tomatoes, cheese, and reserved dressing in a large bowl. Toss to coat well.

Slice chicken into bite sized pieces and and add to salad. 

Serve and enjoy!