Grilled Teriyaki Chicken is an easy to make six ingredient recipe.
Teriyaki Chicken is a recipe that my sisters and I have made for years. We have probably been making it for close to twenty-five years.
I think one of my sisters tried the recipe first and then she shared it with the rest of us.
This chicken recipe is a tried and true favorite in our family. Years ago I shared the oven version of teriyaki chicken, but I have never shared the grilled version.
Grilled Teriyaki Chicken is the same basic recipe with a few small changes.
One of the things that I love about this chicken recipe is that you can put all the ingredients together and let the chicken marinate in the refrigerator for a few hours or all day.
You can make it ahead of time and it will be ready to put on the grill at dinnertime.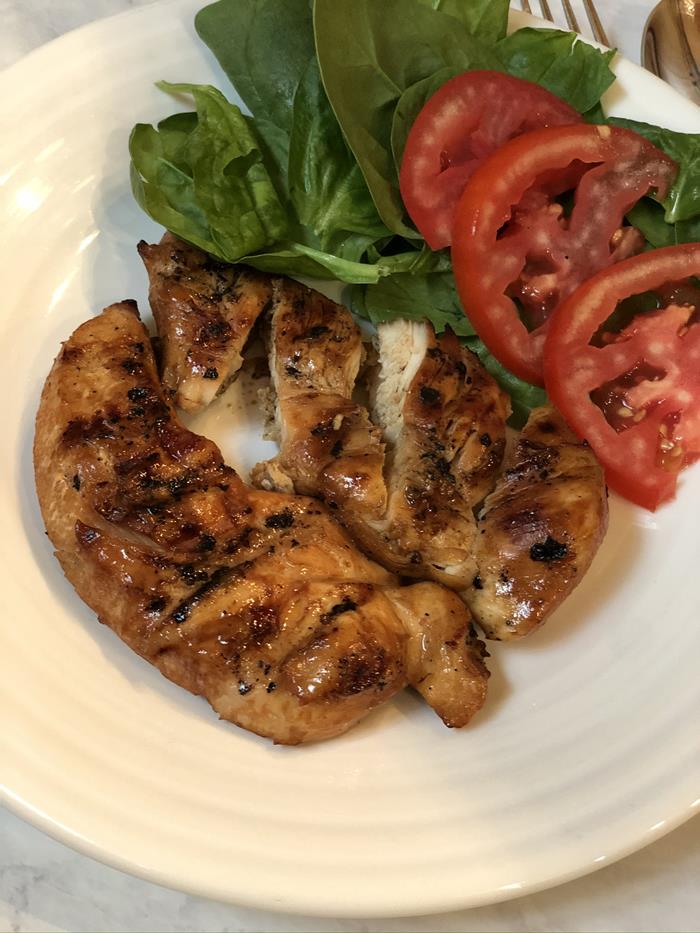 Ingredients Needed
soy sauce or gluten free soy sauce
vegetable oil
brown sugar
ground ginger
garlic powder
2 pounds chicken tenders
Can I freeze the chicken in the marinade?
Yes, this grilled teriyaki chicken freezes great. I have frozen it many times. I place the marinade and the chicken in a ziplock bag and freeze it. Take it out of the freezer and place it in the fridge to defrost. Grill or bake it in the oven.
How should I use the leftovers?
Grilled teriyaki chicken is great leftover. I always make extra for lunches later in the week. You can use it for sandwiches, on a green salad, or in a pasta salad. We like to eat it cold or reheated just as it is or freeze the cooked chicken for easy lunches.
Yield: 6
Grilled Teriyaki Chicken
Grilled Teriyaki Chicken is an easy six-ingredient dinner.
Total Time
4 hours
15 minutes
Ingredients
3/4 cup soy sauce or gluten free soy sauce
1/4 cup vegetable oil
3 tablespoons brown sugar
1/2 teaspoon ground ginger
1/2 teaspoon garlic powder
2 pounds chicken tenders
Instructions
In a large resealable plastic bag, combine the soy sauce, oil, brown sugar, ginger, and garlic powder.
Add chicken. Seal bag and turn to coat. Place the bag of chicken in a bowl or on a plate and refrigerate several hours or overnight, turning occasionally.
Remove chicken from marinade and discard marinade.
Place chicken on a hot grill.
Cook for 4-5 minutes per side or until done all the way through.